Boyd selected by Oakland A's in MLB Draft
Alan Lamarque and Spencer Drazovich, Editor in Chief, News Editor
June 5, 2012
Varsity football and baseball player B.J. Boyd ('12) was selected 139th overall today, by the Oakland A's in the fourth round of the 2012 MLB Draft.
Boyd batted .507 this year for the Vikings, en route to a 27-7 record and Central Coast Section semifinal appearance.
Coming out of the season Boyd knew he was going to get drafted but he did not know in what round or to what team. Most accounts projected him getting drafted later than the 10th round.
"I was not expecting that," Boyd said. "I mean I'm happy I got my team that I wanted to go to because it's close to home."
Boyd will begin his career this summer at one of the Oakland A's several farm team locations.
After hearing the news, Boyd summed up his reaction with one brief line.
"I got my team," Boyd said. "I got my dream."
For more photos of Boyd in action, check out this slideshow by Scotty Bara and Grant Shorin.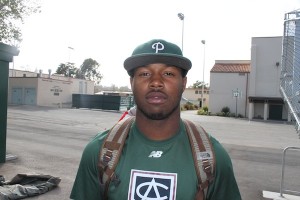 Boyd ('12) after a practice leading to the CCS playoffs this year. Photo by Scotty Bara