Football drops home opener to Archbishop Mitty, 27-28
Zach Rizk, Josh Stern, Staff Writers
September 15, 2012
The Vikings opened up their first home game of the 2012 season with a 27-28 loss to Archbishop Mitty high school.
After Mitty scored the night's first touchdown, Paly responded with a short touchdown run from running back Matt Tolbert ('13), after defensive back Andrew Frick ('14) recovered a second quarter fumble.
Head coach Earl Hansen had mixed feels over his team's performance.
"I thought we were off and on," Hansen said. "I thought we were very good at times, we didn't quit, we fought back."
The Vikings would strike again with 46 yard-touchdown pass from quarterback Keller Chryst ('13) to wideout Malcolm Davis ('13), giving the Vikings a 14-7 lead. Mitty answered with a 99 yard kickoff return for a touchdown, tying the game up once more.
Mitty would then jump on top of the Vikings defense to score another seven before halftime, giving the Monarchs a 21-14 lead at the end of the first half.
Starting the second half, the Monarchs found the endzone once again off a 13 yard rush, giving them a two possession lead. However, Tolbert closed the gap with his second touchdown of the night, setting the score 28-21 Monarchs.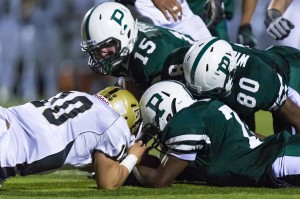 Coming into the fourth quarter, Paly's defense stood firm and did not allow the Mitty offense to produce any more points. Scoring their fourth touchdown late in the fourth quarter, Paly had the opportunity to match Mitty but failed to kick the extra point that would have tied the game.
"We played with a lot of effort, but we didn't make plays when they had to be made," Chryst said. "We did pretty good overall, but there were those few plays that cost us in the end."
Cornerback Connor Scheel ('14) felt the Vikings made too many mistakes.
"There were a few plays there where the mistakes cost us," Scheel said. "For example, on that kick return they had, that was a big one."
Hansen echoes Scheel, but thinks Paly has room for improvement.
"It was obvious things; dropped passes, we have to get better at that," Hansen said. "We have to make sure we don't make mistakes; that really cost us… I think this is a young team that's going to get better."
The Vikings will play cross-town rival Gunn at home next Friday at 7:30 p.m.