Baseball out-duels Bellarmine 2-1
Seven different Paly pitchers held Bellarmine College Preparatory to two hits to win 2-1 on Monday afternoon at Paly.
The Vikings had to come from behind after Bellarmine second baseman Matt Glomb ('11) launched a solo shot off Kevin Kannappan ('12) over the fence in left-center in the first.
The next six Viking pitchers each tossed one inning and allowed only one single.
"We've got a huge series with Los Altos coming up so we need every arm to be ready," Paly head coach Erick Raich said.  "It's also very hard on hitters not to see a guy twice."
Paly struggled to generate offense off Bellarmine starter Nick Medieros ('12) early.
"He hasn't had a lot of opportunities to start but today he had a great chance to show what he can do," Bellarmine head coach Mike Rodriguez said.
The Vikings eventually broke through in the fourth to tie the game.
Shortstop Austin Braff ('12) reached base on an overthrow to first, got to second on a balk and stole third before scoring on a bloop single by third baseman Drake Swezey ('11).
The Vikings then took the lead in the fifth.  Left fielder Cory Tenanes ('11) roped a double to the fence in left-center and later scored on a triple by center fielder Christoph Bono ('11).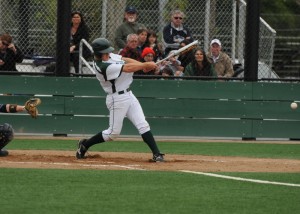 Bono worked a full count and hit an opposite field drive off the very top of the fence, but it bounced back into the field of play.
"We have a big series with Los Altos that we've gotta sweep, and [Medieros] is just like the Los Altos ace," Bono said.
Paly pitcher Arun Varma ('12) got his first career win by pitching a scoreless fifth and Sam Maliska ('11) and Swezey closed out the game.
"I struggled a little at first but started to throw strikes," Varma said.
While happy with the win, the Vikings' focus was on the upcoming series with league-leader Los Altos that will help decide the league championship.
"After today, there's really nothing more we can do [to prepare for Los Altos]," Raich said.  "We're ready."
Paly will head to Los Altos on Wednesday for a 3:30 p.m. matchup before hosting the Eagles on Friday.