Life on the Line
As I walked through the gate at Sunken Diamond, I had no idea what to expect.  The only thing running through my mind was the field in front of me—the field of my dreams.  The grass was cut to perfection almost as if a barber had come through the outfield with measuring tape and scissors.  The dirt was evenly watered and raked, leaving a dark mahogany color.  Lastly, the pitcher's mound looked as if it was designed for gods—no holes, a pearly white rubber and a rosin bag just in case my fingers got too sweaty.  Growing up, I always dreamed about playing on sunken diamond and suddenly this dream was a reality.
Though everything was perfect on the outside, emotions ran wild on the inside.  Every single nerve in my body was firing.  Will I get an offer?  Will I be able to play in college?  Will I stand out?  Will I be able to throw a strike?  Regardless of the different composite bats, the rainbow of Oakleys, and the brand new Rawlings gloves, we all had the same feeling: butterflies.  The ones to shine in the camp would be the ones most capable of handling their nerves.  But what happened to all of the other players, the ones who did not shine?  Those players watched their dreams fade away as they played.
As players roasted themselves going all out in the heat, coaches sat in the bleachers like kings overlooking their kingdoms.  Coaches have the power to grace a player with another four years of playing America's past time.  Accompanying these kings are their loyal squires: radar guns, their rewards: scholarships, and lastly their scorn: the simple "check" or "x" next to a name.  All it took was one little mark on the clipboard and it was over.
Though the same recruiting procedure takes place at all showcases, the environment changes depending on the focus of the school hosting the showcase. Typically, the Ivy League camps have a reputation for attracting stronger students. At one of these camps, whether or not the kid does well at the camp is of a lesser importance, as the schools are forced to care about the academic ability of the kid over their athletic ability due to the extremely selective admission office of their respective schools.  Meanwhile, camps for less academic schools are for players who are stronger baseball player than they are students.  These colleges just become bus-stops for the big leagues.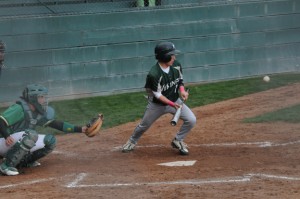 Just getting into one of these camps is a challenge alone, a strain on parents' wallets for travel and admission. However, the challenge for the players on the field is much more difficult.  The environment is similar to that of a gladiator arena: the greatest player left standing gets the spoils from the king-like coaches.
These players come from all over the country,  and sometimes from overseas to test their abilities against the best.  Looking out on the field, one can see a range from 6'8" 180 lb space needle pitchers to 5'4" 220 lb roly-poly catchers.  These players mesh into a blend of enormous talent.  Some of the talent will be shown on the field, while some of it will be left behind in the dugout.  Some of these players have already established themselves as the best.  These players find themselves at the AFLAC All-American game, while others just try to enter themselves in the toughest competition they can get into.  Tyger Pederson ('08), one of those players that entered into showcases with tough competition, is an ex-Paly short stop who has made it to the next level: Division I baseball at the University of the Pacific.
Pederson was not the biggest guy in high school, nor the fastest, nor the strongest.  But he had the work ethic and passion to succeed in all levels of the game, and pursued his dream of playing baseball in college.  That involved getting into showcases and proving that he could perform.  Everything since his childhood revolved around his ultimate goal: the big leagues.
"Baseball has been my love and passion since I was 5," Pederson said.  "I grew up at the baseball fields watching my dad play [along with] with my mom and brothers. Baseball is what I live for and everything in my life revolves around baseball.  My dream is to play professional baseball and I have been working towards that for about 16 years since I started hitting off the tee in my backyard at [age] 5."
Pederson began the college process at showcases.  He accepted invitations from showcases and centered his focus around trying to earn a Division I athletic scholarship.  Just as many other players have come to find out, Pederson was not at the top of the lists for these premier Division I programs.
"The best players are going to go to the best schools, bottom line," Pederson said.  "If you're out there they will find you."
Pederson was found, but not after an additional year of hard work and sacrifice.  He began his freshman season playing Division III at the University of Redlands where he developed a strong name for himself.  Dedicated to play at the highest level possible, he transferred to a Division I West Coast Conference powerhouse, the University of the Pacific.  Due to NCAA regulations, he had to sit out his freshman year.  Though this could have damaged his career because of the lack of live at-bats, Pederson took the challenge.  Now he plays like a professional day in and day out; everything in his life revolves around baseball. Pederson is on his way to achieving his dream.
A scout's clipboard would show Drake Swezey ('11) as a tall right-handed pitcher with medium build from Palo Alto, California.  He has good movement on his fastball, good velocity at a consistent mid 80's speed, touching 86.  His arsenal of pitches overwhelms any hitter that he faces.  His curveball has a hard break, his change-up is deceptive and his unhittable splitter has a sharp and late break.  Swezey should dominate with an increase in strength and velocity.
Swezey does dominate. On march 25th Swezey's pitching performance with the Vikes resulted in a two-hit shutout against Homestead.  Because of his stellar performance atshowcases over the summer, Swezey received an offer from University of Santa Clara.  But before that, he was just like everyone.  He had hoped for a chance to play for the next four years, the only way he knew how to get there was through the brutal showcase environment.
"Coming into the showcases, you are miserable at first because you are tired from the early morning start times," Swezey said.  "You just spend your time hoping you aren't a name to be crossed off the list, and because of that you feel all of the pressure that you have to do well to get an offer "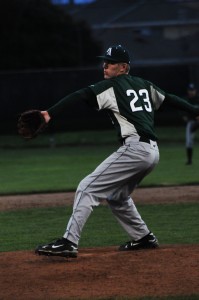 Showcases are make or break.  There is immense risk entering.
"The showcases give you a chance to show what you got, but if you have a bad day your performance can be detrimental, but at the same time it can be helpful if you do really well," Swezey said.  "I was really excited when I got my offer, I was smiling like a little kid; Santa Clara was one of the places I really wanted to go to and I realized the showcases were over, the work had paid off, and I was going to be able to play at the next level."
A scout's clipboard would have Jeff Cohen ('11) as a short outfielder with medium build, attending Palo Alto Senior High School in Palo Alto, CA.  He has a good bat path, good power for his size, good speed on the bases and good range in the outfield.  He flat out knows the game of baseball.  Unfortunately, he has had trouble with arm injuries.
Cohen encountered a difficult environment during his junior year at a showcase at Harvard University.  Because of his young age, he wasn't looking for an offer or a miracle, he just wanted to get seen.  Cohen was seen, but only after walking off the field after suffering a shoulder injury.
"I went [to Harvard] and did really well, but I made a diving catch on my throwing shoulder and banged it up pretty bad, injuring it," Cohen said.  "If I hadn't injured my shoulder I thought I was going to be one of the top players coming into the Ivy League or at Division III.  At that level of baseball I thought I would have been really good.  But once I hurt my shoulder, I didn't go to the second day, and it really hurt my chances of being taken seriously by the coaches."
Cohen became forever affected by the outcome of the showcase at Harvard, both physically in terms of his arm, and mentally in terms of his hope of making it to the next level.
"I came out of it knowing if I was healthy I would be able to play at the next level, but if I wasn't healthy I would be done in terms of the coaches minds, and I am not healthy right now," Cohen said.
Risking everything in the showcase, Cohen lost with an injured throwing shoulder.  Because of his injury, Cohen figured that coaches believed his chances at playing at the next level were next to none, so he applied to schools with Division I baseball programs in hopes of walking on.
Clay Carey ('12) is a tall and lanky pitcher from Palo Alto, CA.  He throws from a ¾ arm slot with a fastball topping out at 79.  His curveball is slow with a big break.  He has the potential to be good at the next level with increased strength, but there remains a problem: velocity.
"My form enhances the movement on my pitches but it doesn't allow me to throw very fast," Carey said.
Carey's last showcase resulted in a  two-inning slug fest for the hitters he faced on the Sunken Diamond.
Because of the narrow scope used by college coaches, players' dreams are shot down, out of the sky, and they are forced to lick their wounds and find a new focus.
In Carey's case, he decided to focus more on academics.  With what started as a chance to get used to the recruiting process by attending showcases, it ended in a player morphed in mindset, no longer with a strong desire to pursue a baseball career.
"Coming out, it depends on how you played," Carey said.  "Your confidence can be shot: you could have had a poor outing that kills your chances, or you could have done really well and it makes you shine."
While Carey had an initial stint of stardom at a showcase at UC Davis, his dreams faded away as the competition increased.
"At other showcases I went to [besides UC Davis], the other talent was higher than I had ever seen…I had never played the kind of baseball that these players were playing: the kids had a big advantage over me," Carey said.  "I felt defeated.  It was hard for me to understand that even though some people were better than me, [it] didn't mean that I couldn't play at the next level.  Before the showcases, I was sure I was going to be able to play it was just a matter of where.  But after the showcases, it made me question my life after high school and whether or not I actually stood a chance with baseball in college."
Though Carey has played baseball all of his life and always had the dream of playing in college or professionally, the showcase experience left him confused.  It created doubts and left an overall feeling of uncertainty.
"The showcases made me question my future," Carey said.
All it took was one day, a few pitches, and an at-bat.  After one long day, Carey's future in baseball had changed forever.
Leave a Comment
About the Contributor
Kevin Kannappan, Staff Writer
Kevin is a junior football and baseball player and joined The Viking at the beginning of the 2010-2011 school year.  He has played baseball since he was...