Shopping woes: The Oakland Athletics' troubling obsession
In case you didn't want to go back to my previous column, the point I'll be making here is that the Oakland A's:
2. Stick with prospects that have "proven" themselves in the farm system who just can't do diddly in the bigs, or trade away prospects before they can help us out.
 Don't worry, I'll come through on my promise. Here's the list in all of its gargantuanity:
Daric Barton
Andre Ethier
Travis Buck
Nelson Cruz
Chris Carter
Jemile Weeks
Carlos Gonzalez
Huston Street
Andrew Bailey
Jeremy Bonderman
Dan Johnson
Carlos Peña
Mark Teahen
All those players have, at some point, been Oakland A's. Bet you didn't know that did you? But yeah, this just seems to be a disease. Much like shopping for jeans is for people like Shannon Scheel ('12), the A's have a similar disease, except they're shopping for players.
But what really gets them in trouble is when they overshop. Because at some point, you've just got to realize that 'hey, I could really do something with these players.' At some point, you actually need to stop building the machine and watch and marvel at the wonder that you've created. Or they stick with people for way too long. Four of those players were ones that we as A's fans were begrudgingly stuck with. Can you guess which ones? (Hint: they're the ones you never heard of, and won't ever in the future. Except for the one I'm about to mention.)
Take Daric Barton. Actually, any A's first baseman would probably be a fine example for this point, but Barton is my favorite. Or least favorite actually.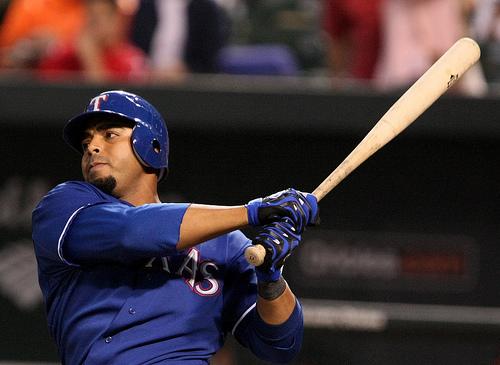 So, to start it off, Barton was acquired in, guess what, a trade, for, guess what, a star, who, guess what, was coming off a great season (in this case Mark Mulder) in 2004. Mulder had just come off an All-Star year, going 17-8 for the A's, who finished in second place in the AL West.
And in return for Mulder, we got Kiko Calero and Dan Haren (who, I know, surprisingly, we traded away too).
But back to Barton. Apparently, pre-2006, he was the number 28 ranked prospect in the nation according to Baseball America. The season before in the minors, he had batted .317 with 89 RBI, slugging .478 with an OPS of .904. Pretty good. Not gonna try and lie there. But, it all goes downhill from there. In 2008 he finally got a legitimate chance in the majors, batting .226 in 446 at bats. So, fine. It was his first real chance! I'll give him a break. But that'd only work if he actually did better the other years. In 2009 he batted .258 in 275 at bats in the minors and .269 in the majors in 160 at bats. In 2010, he batted .273 (in 556 at bats) but just wait for 2011. This is the epitome of Barton. Batting .212 in 236 at bats, then getting sent down to the minors, where you bat .197? Classic.
But what I really have against Barton is that he plays the wrong position. Ask any fan and they'll tell you they aren't looking for a first baseman who bats .212, much less one that, at his best, bats .273. Because at the first base position, you want power. Look at other star first basemen: Albert Pujols, Ryan Howard and Adrian Gonzalez. How many of them hit for power? All of them. Do they walk a lot? (Barton led the AL in bases on balls with 110 in 2010). Nope. Do they make a bunch of errors? Well, maybe. First base is the place where you can generally stick some noob who can't field, thought Pujols is an exception. But do they consistently lead the AL in errors committed as a first baseman, like Barton did in 2008 (with 13, placing 1st), 2010 (with 10, placing 2nd) and 2011 (with 8 placing 3rd)? Nope.
And even if Barton switched positions, he would still be subjected to my wrath (if you could even call it that), because what makes me the most angry about Barton is his BA with RISP (BA=batting average and RISP=runners in scoring position [meaning runners on second and third while, unfortunately, Barton is up]). In his career, Barton has the stellar BA with RISP of…wait for it…240! Fantastic. Even better, in 2010, he batted the fantastic round number of .180 with RISP and two outs. A double whammy there. My dear father and I have such a love for Barton that when he steps up to the plate, we both race to say some snide remark like "Oh hey, our fave Barton is up! What do you think, a pop out?" "No…you can't give him that much credit. He's going to strike out looking." We've decided that Barton is such a good player, that when he gets up, pitchers get scared, give him weird pitches, which induces a foul out. Because Barton is that good. He can't even get it in between the foul poles.
And that, readers, are the two main reasons why the A's as of late have been, let's just say, less than stellar. Because as we at The Viking know, yeah, you can kiss the ring, but you can never touch the crown.