Paly girls' lacrosse forced to vacate six league victories
The Palo Alto High School girls' lacrosse team found out Thursday that it will be forced to vacate six of its Santa Clara Valley Athletic League (SCVAL) wins this season as a result of a Central Coast Section (CCS) rules violation.
The violation, which resulted from an unspecified administrative error, recently came to the attention of CCS officials, who handed down Thursday's decision.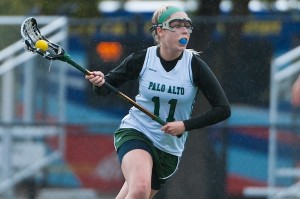 The team's league record before the ruling stood at 8-1, but has now dropped to 2-7. The Lady Vikes will finish out the season, and still have a chance to qualify for the final spot in the league playoffs, but naturally the ruling is a disappointment for all involved.
"I was really sad and angry [when I heard about the ruling],"co-captain Kimmie Flather ('12) said.
The Lady Vikes have had several successful league seasons in the past few years, including first place in the league tournament two years ago and a second place finish last season. They looked to be on their way to another strong finish this year before the ruling.
In addition to losing six key victories, the statistics accumulated in the forfeited games will not count towards the players' season totals, which could cost several players the all-league recognition they may have earned otherwise.
Even in the face of this kind of adversity, the team's dream of a league title remains alive, so the motivation to perform remains.
"If we just work hard, there might be a possibility that we could go to the championship," Flather said.
The Lady Vikes have three games left in their league this year, and will have to make the most of the opportunity. Each league game from here on out is a must-win, starting with Gunn at home tonight, April 20.
Leave a Comment
About the Contributor
Austin Poore, Features Editor
Austin is a senior at Paly. He joined The Viking at the start of the 2011-2012 school year, and loves covering Paly sports. He plays Paly baseball in...