2011: A Giant Year
Ladies and gentlemen, it's that time again. Put those snowboards and overcoats back in storage and bust out your fake beards and foam fingers, because on March 31st, players and fans alike will embark on the six-month roller coaster ride that we call baseball season.
Filled with epic victories, heartbreaking defeats and maybe just a little too much torture, 2010 marked an unforgettable journey for the San Francisco Giants, one that left that sweet taste of champagne that every ballplayer dreams of.
But in case you are still hung up on Edgar Renteria's MVP performance, Brian Wilson's beard, Cody Ross' resurgence, or the seemingly unhittable pitching of the Giants' home-grown starting pitchers, there is one thing that you must realize: 2010 is over. Manager Bruce Bochy couldn't have said it any better in a recent trailer for the Giants upcoming reality series.
"This is a new season, and it's a new race."
Sure, with the addition and subtraction of various players, it's hard to predict which team will reign victorious this October. However, there are a few tell tale signs. Here are my opinions and predictions for how the Giants will match up against the National League West, and the rest of Major League Baseball in 2011.
Re-claiming first place in the NL West will be the 2010 World Series Champion San Francisco Giants. Last year, Sports Illustrated incorrectly picked the scrappy group of castoffs to place third in the NL West. This might have been a very accurate selection, if it were not for the tremendous in-season acquisitions by General Manager Brian Sabean. Let's take a look at the Giants' 2010 Opening Day lineup compared to their 2010 World Series Game 1 lineup. (changes in bold)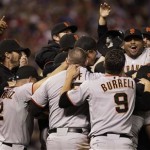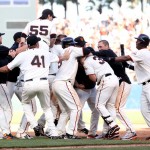 Opening Day:            World Series Game 1:
P: Tim Lincecum             P: Tim Lincecum
C: Bengie Molina           C: Buster Posey
1B: Aubrey Huff             1B: Aubrey Huff
2B: Juan Uribe              2B: Freddy Sanchez
SS: Edgar Renteria      SS: Edgar Renteria
3B: Pablo Sandoval     3B: Juan Uribe
LF: Mark Derosa           LF: Pat Burell
CF: Aaron Rowand      CF: Andres Torres
RF: John Bowker          RF: Cody Ross
That is six out of the eight position players swapped over six months, three of which did not begin the season on the team. If there is anything we can take away from this, it's that the 2010 San Francisco Giants were not World Series caliber in April of last year. Their timely call-ups, trades and free-agent pickups are what brought those clutch performers to the city by the bay and made them champions by the end of the year.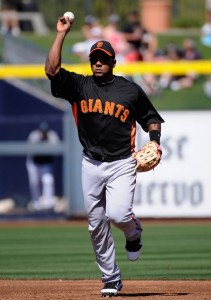 Since that glorious October, there have been a few changes. At shortsop, the Giants have lost World Series MVP Edgar Renteria who battled injuries and posted only a .276 average while playing in just 72 games during the regular season, failing to help the team much until the fall classic. To fill the whole left by Renteria, veteran shortstop Miguel Tejada was brought in during the off-season.  Tejada has played at least 155 games in his past 12 seasons and is poised to have a significantly more productive and consistent first year with the Giants.
Also out of the picture is third baseman Juan Uribe, who rejected the Giants' offers and chose to play for a certain NL West SoCal team that will remain nameless for now. However, now added to the equation is a 38-pound-lighter Pablo Sandoval, who will hopefully return to 2009 form, when he had a .330 average, 25 home runs and 90 RBIs. With more agility and range at third base, and a little more plate discipline, Sandoval will hopefully become the powerhouse that we all know he is capable of being.
So what does all this mean? I believe that if the Giants enter 2011 with their 2010 World Series roster, along with these new additions, they will be tasting playoff champagne after their season finale this September.
Now, the competition.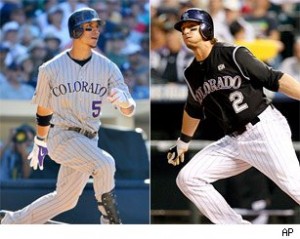 After the first place Giants, I predict the Colorado Rockies will snatch second place, if not the National League wild card. Some believe the daunting duo of National League batting champion Carlos Gonzalez and All-Star/Gold-Glove shortstop Troy Tulowitzki will terrorize the entire league. There is a good chance that they will do just that, but did anyone hear even a murmur of Ubaldo Jimenez after his spectacular, 15-1 first half record last year? I sure didn't, and for that reason, I don't believe that their pitching can match the Giants' stellar staff, or beat them for the West title.
However, having a very short lead in any game against the tenacious Rockies might entail one of the most unpleasant feelings of uneasiness and apprehension I will ever experience. Can anyone say torture? Even going into the last inning with a two run lead at Coors Field in Denver, I just always get the sensation that the Rockies are just behind your back, watching, hungry and ready to pounce. They are without a doubt in this race and should be feared until September 28th, 2011 (the regular season's final game), in the 9th inning, when Brian Wilson silences their playoff hunt, and closes out the year.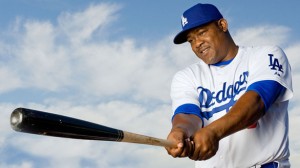 The Giants' will not have to worry too much about their Southern California rivals, the Los Angeles Dodgers, whom I predict will place third. Manager Joe Torre has left, leaving the team in the hands of inexperienced former bench coach Don Mattingly. Manny Ramirez, although he was seen as a distraction to the club, is gone, and along with his wild antics goes his powerful bat. The Dodgers have signed pitcher Jon Garland (who will likely start the season on disabled list), along with former-Giant, and player-I-used-to-respect Juan Uribe. Their pitching and offense are good, but not good enough to compete with the Giants or Rockies. And come on. The Dodgers winning the division? Let's face the facts here.
In fourth place, the Giants' biggest threat last season: the San Diego Padres. But how can a team just a couple games away from winning the division last season be ranked so low? Sorry, but the Padres lineup minus Adrian Gonzalez, now the Red Sox' first basemen, is like a bowl of Rice Crispies without the milk: no snap, crackle or pop. Their strong pitching, however, will keep them from the depths of the division.
At the bottom of the NL West for the third year in a row will be the Arizona Diamondbacks. Their off-season was action-packed. Power hitters Adam LaRoche and Mark Renoylds (who combined for 383 strikeouts during the season) have departed, and a number of new arms have arrived, most notably closer JJ Putz. They may have begun to improve their 2010 MLB-worst 1,529 strikeouts at the plate with a couple of these free-swingers gone, and their third-to-worst 4.81 ERA on the mound, but these problems will still eat away at their club, and I don't see a good 2011 season for the snakes out in the desert.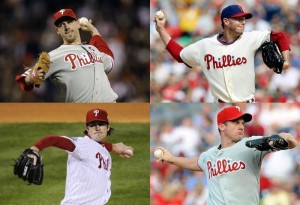 That concludes the western division, but there is one more National League team I would like to mention: the Philadelphia Phillies. As a rotation, the starting pitchers collectively have three Cy Young awards, two NLCS MVP awards, one World Series MVP award, 13 All-Star selections, a no-hitter and a perfect game. They have received an enormous amount of hype and are considered by some the best rotation in the league, and the only one stronger than the Giants'.
The average age of the Phillies' starting pitchers, however, is 31, with the youngest pitcher (Cole Hamels) at 27 years old. The Giant's rotation is an average age of just 27 years old, with young-gun Madison Bumgarner at only 21. Maybe the Phillies' impressive arms are more experienced and able right now, but just wait a few years until over half of their starting pitchers are in their mid-thirties, with retirement in their sights.
The bullpen is a different story. Closer Brad Lidge, who seems to choke in every big situation, will start the season on the disabled list, leaving the Phillies in search of a replacement. If an inconsistent closer is what they are trying to replace, I can't imagine a strong year for the Phillies' bullpen.
Another thing to take into account is the offense. They have lost All-Star powerhouse Jayson Werth, and his replacement Domonic Brown began spring training with hand surgery, and is expected to miss four to six weeks, leaving a gaping hole in the outfield. Second-baseman and powerful lefty bat Chase Utley is also injured, and will likely undergo knee surgery. Their offensive lineup is now far below average, with strikeout-prone slugger Ryan Howard as the only big threat.
My advice to the Philadelphia Phillies and their aggregation of aces: pitch as many shutouts, complete games and no-hitters as possible, because your offense and bullpen will not be doing you any big favors this year.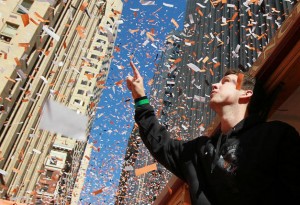 So if the Giants continue to lead Major League Baseball in ERA, get those timely hits, and keep the Colorado Rockies off their backs, an NL West title will be in reach, with the Phillies' pitching as their only obstacle on the path to another World Series appearance.
The most important thing, however, is that last season is over. It is time to move on, go grab a new story from the shelf and watch each chapter unfold. We have finished reading 2010's magical fairytale full of upsets, underdogs, and that unbelievable World Series aura.
And as Ashkon belted out in his viral Giants anthem,
"Don't stop believing. This could be the season."
Because 2011 is here, Opening Day is just moments away, and the 2010 World Champion San Francisco Giants are back and ravenous for a repeat.