Column: Football gears up for the 2011-2012 season
Mira Ahmad, Multiplatform News Editor
August 28, 2011
At the end of the 2010-2011 Palo Alto Varsity High School football team's season head coach Earl Hansen said "It's a history-making record for Paly and it will always be there…people can only tie it."
I will not pretend to be an expert on the game of football. I cheer when everyone else does, and I find myself staring at the scoreboard more than I'm actually watching the game. But like every not-so-knowledgable fan, I KNEW about the championship game. The impossible odds, and the electrifying victory. And, like all those other people out there, I have been asking myself the question: "How will we do what we did last year?"
Losing graduating seniors such as Christoph Bono ('11), Kevin Anderson ('11), Maurice Williams ('11) and Davante Adams ('11), poses a daunting challenge for the team left behind.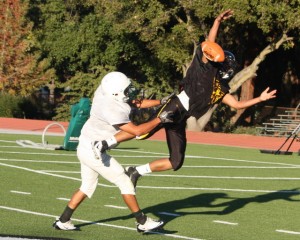 But here is a still a lot of potential on this team.  Up and coming juniors as well as new talent is what the Vikings will rely on this year.
The team played a modified scrimmage on this Friday at Paly against Wooside, Aragon, and Tera Nova High Schools, and although it did not yet look like championship material one could see the team just needed a little bit of time.
So let me cut to the chase: drop the expectations. This is not the same team. It is a new set of athletes each bringing a new set of skills to the field. They will get better each time they put on the gear and head to practice, and with each team they play.
Give them time to get rid of the rust, get the gears working together and start winning games. With new talent like quarterback Keller Chryst ('14) and strong safety and running back Matt Tolbert ('13) added to the host of returning players, the team will be sure to have just as many memorable moments as they did last year.
"Well we are gettting better everyday and I think the scrimmage gave us even more confidence going into the season," Chryst said. "We are going to just take one game at a time, but in the end we want to win another state championship."
About the Writer
Mira Ahmad, Staff Writer
Mira is a junior at Paly. She plays varsity soccer and joined The Viking staff at the beginning of the 2010-2011 school year. In her free time, Mira enjoys...