Team Paige defeats Team Sam 12-4 in annual Viking staff basketball game
Team Paige defeated Team Sam in the Viking's annual staff basketball game Wednesday on the outdoor courts at Palo Alto High School by a score of 12 – 4
Team Paige never trailed en route to its victory, although turnovers were the story early in the game. Both teams struggled to keep possession, but eventually Team Paige began to hit its stride, taking the lead after baskets by Alan Lamarque ('13) and Mr. Hall.
From that point on, Team Paige's stifling defense took over, led by John Dickerson ('12) and Hall, who each contributed several early steals. Although Team Paige  failed to capitalize on all the opportunities created by its many steals, the numerous forced turnovers disrupted Team Sam's play.
"Obviously, Mr. Halls stunts are throwing them off," Team Paige player Shannon Scheel ('12) said.
Hall's five steals helped hold Team Sam to only one point in the first half, which came on a free throw by Peter Dennis ('12) after Dickerson incurred a technical foul for not completing three passes before shooting.
Dennis was the only player on Team Paige able to find success offensively, scoring all four of the team's points. After going one for two from the free throw line in the first half, he also drained a three-pointer in the second.
Team Sam's struggles began with poor ball movement early in the game, which crippled its offense.
"In the end, we had some good ball movement, but at the start it was a 'me' game, not a 'we' game," Team Sam player Nathan Norimoto ('12) said at the end of the game.
Norimoto also lamented that Team Sam failed to take advantage of all its weapons.
"We should have given Mr. Winston the ball more," Norimoto said.
While the game was sloppy on both sides, it did produce a few memorable highlights. One of these came late in the first half, when Dickerson came up with a steal near his own three point line. He and Hall proceeded to hook up on a behind the back give and go pass leading to two of Dickerson's six points.After the game, Dickerson refused to take credit for the team's victory, instead listing several keys to the win.
"Hard defense, good coaching, and bad coaching on the other side," he said.
Scheel agreed that it was a team effort.
"We're playing with a lot of heart out here," Scheel said.
This was the final meeting between the two teams.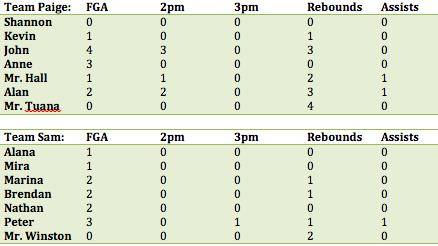 About the Contributors
Austin Poore, Features Editor
Austin is a senior at Paly. He joined The Viking at the start of the 2011-2012 school year, and loves covering Paly sports. He plays Paly baseball in...
Scotty Bara, Photo Editor

Scotty Bara is a senior at Paly. He likes anything to do with sports.