Column: Until the Last Pitch
Jacob Lauing, Business Manager/Staff Writer
September 8, 2011
"The San Francisco Giants are ruining my life."
"The Giants are officially done. They have NO offense."
"I'm telling you, dude, this season is over."
This is what I have to deal with every day. Whether it is a Facebook status, a text from a friend or even my dad yelling at the TV, the negativity towards this team is at an all time high. After an 11-18 record in August, a seemingly endless amount of heartbreaking losses and a team with a disabled list livelier than bingo night at a retirement home, it's safe to say that folks around me have officially given up hope on the 2011 San Francisco Giants.
We've all heard talk of this season's "woes," but let me take you a few years back to a game I remember far too vividly. The date was April 3, 2007. Having just signed pitching phenom Barry Zito in a seven-year deal worth $126 million, The Giants were coming off a very productive winter. The team's payroll hovered just over $90 million, it was opening day and expectations soared for the former Cy Young award-winner, along with the rest of the ball club, which included soon-to-be home run king Barry Bonds.
Zito, however, went only five innings, gave up three runs and walked two. The Giants lost 0-7 in a game that set the tone for the next two years. As the San Diego Padres continued to murder the Giants' bullpen, the atmosphere in the stadium became among the most uncomfortable and disappointing I have ever experienced. A man sitting in the row behind me was kicked out of the stadium for his excessive use of profanities directed at the field. I was 13 years old, but I knew that wasn't a good sign.
While attending that atrocious hell of a game, I bought a 2007 Opening Day t-shirt, knowing I could brag to everyone of my presence at the first chapter in what I hoped would be 2007's magical run to the playoffs. It is a game I will never forget, but for all the wrong reasons. Six months later, the Giants finished in last place with a record of 71 and 91 among the league's worst clubs. The t-shirt has been in my closet ever since.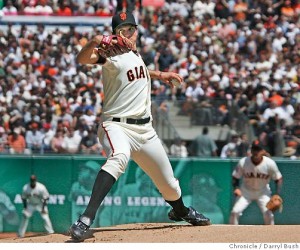 But a lot has changed since that appalling April afternoon. Year by year, the Giants have clawed their way out of the division's depths. In 2008, the Giants payroll sunk to $76,904,500 with Bonds' absence and their record dropped by one game to 72-90 as Tim Lincecum snatched his first Cy Young award and the team claimed fourth place.
2009 marked a sign of great things to come. The Giants would place third with the .330 average, 90 RBI emergence of young Venezuelan slugger Pablo Sandoval and a repeat Cy Young performance by Lincecum, as the team posted an 88-77 record, their first above .500 since 2005.
Not much needs to be said about 2010. We have all experienced, watched, dreamed, breathed, lived and relived 2010's unbelievable post-season run that concluded with a world championship for the city by the bay and the notorious "band of misfits and castoffs" that San Francisco fell in love with.
It was a magical season to say the least, but all of that glory may have spoiled us. Don't get me wrong, I cried tears of joy when Brian Wilson struck out Nelson Cruz to seal the deal on that November evening in Arlington, but now it seems every person around me will settle for nothing less than perfect.
Sure, it's great to have high standards. The 2011 San Francisco Giants have had the potential to repeat since spring training. But things have obviously changed. Buster Posey and Freddy Sanchez, the team's two best hitters, are out for the year and the offense has been flailing for help like a fish out of water. Even with the additions of Carlos Beltran and Jeff Keppinger, the Giants still can't seem to get it together. I still have faith that this relentless bunch can make the post-season and I won't give up on them until September 28th, when the regular season officially ends, but I am absolutely fine if they don't reach the playoffs again.
Think about everything we've gotten to see this season. Ryan Vogelsong has gone from a mediocre pitcher barely hanging onto his career to an staff-leading All-Star that ranks among the league's best hurlers in nearly every category. The Giants sent five players to the All-Star game in Arizona, along with their entire coaching staff. Pablo Sandoval has proven to us all that he is willing to slim down and become the offensive powerhouse we knew he was in 2009.
The Giants were undoubtedly struggling a month ago and it appeared that everyone lost hope when September 1st rolled around. But what people don't realize is that their record was 72-65 on that day. In 2007 on the very same date they were 62-74. A year later they faced an even greater deficit at 59-78. Even last year, the Giants were 74-60 at September's beginning, barely higher than this year's record.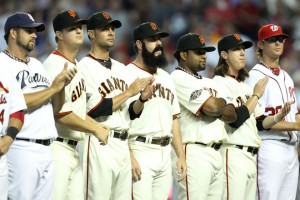 What I'm getting at here is the Giants are in a pennant race for the second year in a row. The last time that happened was in 2005. So stop complaining about how hopeless the Giants may seem right now, stop trying to count them out and start trying to enjoy another spectacular season. We may not be in first, but we are a hell of a lot better off than we used to be, with many seasons of victory to come in the near future.
So I flipped on the TV Tuesday night to see Eric Surkamp pitching to catcher Chirs Stewart, a combination that could not be more different than the 2010 Giants faced and something I never could have predicted as a chapter of the 2011 Giants' story. The Giants were winning 4-3, but my dad was quick to judge my actions.
"Jacob! What are you doing?," He said, "This season's over."
I sat there on our kitchen table, looking up at an oh-so-familiar one-run lead and a team six and a half games back with just 20 left to play. I sat there and watched a team playing without their Rookie of the Year catcher, their former batting champion second baseman and 2010's long list of clutch heroes. I sat there and looked at a team with one of the worst offensive seasons in San Francisco's franchise. I sat there and I thought about what he had just said to me.
"I don't care," I responded. "I'm watching my favorite team play the game I love and I'm going to do that until there's no season left."