Column: The awkward moment when…
At today's Paly girls' soccer meeting, the signup paper made its way around to me. Name? Pretty straightforward. Position? Outside defender- duh, it hasn't been anything else since the third grade. Club? The awkward pause and the hovering pen. Club. I looked around at some of the girls who I have played club soccer with for over eight years sitting around me, some of the best friends I have had the privilege to spend my life on and off the field with.  I hesitantly wrote down De Anza Strykers. The last club I was playing for, before number three.
For anyone who knows me, you all know what we are about to come to, concussion 3.0. And for those of you who don't know me- yes there was a concussion 1.0 and a concussion 2.0. My first concussion was in March of 2010, and the second in May of 2010. 2.0 was the worst physically, but 3.0, which was just two days after my one-year concussion- free anniversary dinner, was the worst mentally.
One moment, you're on top of the world, beating someone to the ball, the next you're on the ground, hearing your best friend tell some girl, "NO she's not okay! You just gave her a third concussion, you [insert whatever profanity you think Emy Kelty ('12) could muster up here]".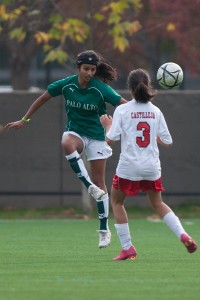 That third, minor concussion changed a whole lot of things for me. Out the door went every thought of college soccer, club soccer, and quite frankly any contact sport on the face of this earth.
It wasn't until a more recent conversation however, that I realized high school soccer fits into the category of contact sports on the face of this earth. Trust me, I argued the point. I promised to wear the tard-guard (protective head gear), even two if they wanted. I said I would only play twenty minutes per game. I would play midfield not defense. I would do ANYTHING to have the chance at one last season with the Lady Vikes.
To me, it made perfect sense. Heck, John Dickerson ('12) had more concussions than I have and HE seems okay (for the most part), right? I wanted the chance to be one of the seniors I had looked up to every year. To have a senior day and to have an excuse to caboose during the two- mile run.  I just wanted the senior soccer season I always thought I would have.
I guess at today's meeting, I wasn't quite ready to let go of what has been a defining part of my life for so long. To leave that one space blank, to not have a club that I play for, that was just too painful.
I know that no matter what, I will get to be a part of the 2011-2012 season- but maybe just not in the way I had originally planned.  Sure you'll see me at tryouts, tard-guard and all, but you probably won't be hearing too much about my "hard tackles" in the middle of the field this season (thank you Palo Alto Online).
So for right now, I'm going to hide behind my old soccer Club's name, pretend that my head protection is actually protecting me, and pull out my cleats which my mom had to hide from me until now. But ultimately I know that when it comes to game-time, I'm going to have to be okay with sitting on the bench, and watching my friends on the field.  While that is unimaginable to me right now, hopefully, with some help from the people who have always had my back on and off the field, I'll be able to enjoy my senior season just as much as I would have concussion free.