Freshman in front

She wears her brother's hole-infested old running shoes and heavy knee-high soccer socks to each practice. She joined the cross-country team for a prep period. And she shows up almost every day to practice for just under an hour before she races off to her soccer practices.
This is Katie Foug ('15), a varsity cross country runner and the only runner on the team to qualify for the 2011 State's meet.  How did this feather-weight freshman become such a stand-out athlete? Was it grueling multi-mile training weeks, night- and- day dedication to the sport, or a private coach? The secret behind Foug's success this year is a combination of three things: a heavy-duty soccer schedule,  positive attitude, and competitive drive.
This fall, Foug joined the team as one of many newcomers. She had no expectations, no reputation to fulfill, and no hype surrounding her every move.  She was first noticed by her teammates during a practice in early September for her performance in a hill workout.
"We were at the dish, and I saw her coming [up the hill] so I started pushing it, and she just ran off," varsity runner and teammate Chika Kasahara ('13) recalls. "We all said, 'okay, she'll get tired after this', but she kept running really fast, and we all kept thinking, 'What? Who is this freshman?'"
Shortly thereafter, Foug again surprised her teammates in her first competition.
"At the first meet, when I found out she beat me, I was [shocked,]" Kasahara explained.
As the season progressed, Foug quickly became the team's first runner, a position she maintained for the entire season.
Her immediate success in the sport may give the impression that Foug is a hard-core cross- country runner, but her time devoted to the sport suggests otherwise.
"She would come to cross-country about half the time and stay for about 10 minutes until she had to go to soccer," teammate Sophia Robinson ('15) said of Foug's unusual practice style.
As a soccer player for seven years, Foug scheduled her time around her soccer practices and tournaments.
"I don't go to cross-country on Mondays, on Tuesday I have to leave [practice] early, but Wednesdays and Fridays I can go to [all of it]," Foug said.
At times, Foug would arrive only minutes before a race. At the Stanford Invitational meet, Foug arrived roughly 15 minutes prior to the race.
"She had a tournament right before the race, and it wasn't until right before the race that we finally found her," Kasahara recalled. "She had all her soccer stuff on so we were all panicked. Then [the race started and] she took off as if she had no soccer before it."
Despite her seemingly shaky commitment, cross-country coach Paul Jones accepts the routine.
"[Double practices] worked okay," Jones said. Unlike previous experiences with double-sport athletes, "it seemed to work for Katie."
Her teammates make light of her double-sport pursuits by joking about her illegitimacy as a cross- country runner. As a congratulatory gift for her state meet qualification, Foug received a pair of running socks to finally replace her soccer socks.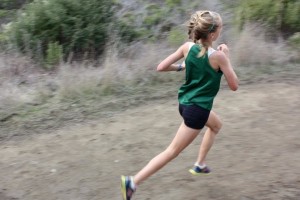 "As a team we're kind of transforming her into a runner: She always wears soccer socks so we bought her a nice pair of running socks," Kasahara explained. "She's so low maintenance."
Her shortened cross-country practices were not without consequence, however. Going from a condensed hill workout to a three hour long soccer practice is not an easy feat. Foug attributes much of her success in cross-country to her fitness level provided by soccer.
"In soccer we do a lot of running, maybe not long distance, but I've built up a lot of stamina, so it helps," Foug said.
Foug has also been raised in an active environment. "She has played several sports growing up. With two athletic brothers…she's always [tried] hard to keep up with them," Jim Foug, her father, said.
Foug's success matched with her less frequent practice appearances did not sabotage her chances of having close team relationships. Her charming personality overruled any negative sentiments a teammate might feel.
"It was so hard to get frustrated with her; she was too sweet," Kasahara said.
In addition to her impact on the team in a competitive aspect, Foug provided a source of inspiration to several of the teammates.
"[Being such] an amazing runner, she makes me want to run better and harder," Robinson said. "She always compliments you on how well you've done on the race, even if you've done really crappy… she's a really good teammate,"
Varsity runner Audrey Debruine ('14) credits much of Foug's positive influence on the team to her unrelenting modesty.
"She inadvertently pushes all of us to try our hardest because we all want to try and be like her," DeBruine said.  "But she's not there in a [condescending] way. [Foug] is the most modest person on the team by far, even though she's the fastest."
The secret to Foug's success, despite her minimal and seemingly nonexistent training, appears to be her competitive drive.
"She's got this competitive edge to her that we see every now and then, and you don't really expect it," Stephen Foug, a Paly history teacher and Foug's uncle, said.
Her father offers another quality as well.
"Her best attribute is her determination," Jim Foug said. "She is very mentally tough…  She's always been a hard worker…and I think this work ethic is a main reason why she's had some success."
As a budding varsity soccer player and a future track and field runner, Foug has many more seasons of Paly sports ahead of her.
"I think seeing her name up on the record board is a very likely possibility for her," Jones said.  He is not alone in his hopes for Foug's future.
"She has so much potential," Kasahara said. "She's only a freshman and she already made it to states. I look forward to the track season with her, seeing where she'll go."
Her achievements in her first season of Paly athletics came without a private coach, fancy shoes, or even much training.  Foug became the athlete she is now with two simple qualities: a positive attitude and a determined mindset.
Leave a Comment
About the Contributor
Nora Rosati, Editor-in-Chief
Nora is currently a senior at Paly, and is a captain of the varsity girl's cross-country.  She joined The Viking because of her love of sports.  Nora...