Paly baseball falls to Campolindo 2-14
The Palo Alto High School Varsity baseball team lost to Campolindo, 2-14, on Saturday, February 25th at home.  As the Viking's second non-league opponent of the season, Campolindo is likely one of the Vikings toughest they will face this season.
"They have seven Division I  guys on their team committed to schools so they are pretty good," head coach Erik Raich said.  "The guy on the mound that started is supposed to be a draft pick and the catcher is supposed to be a draft pick.  They obviously have talent."
Paly started the game strong holding Capolindo to zero runs in the first two innings.
The Vikings gained the lead in the first innings when BJ Boyd ('12) stole home on an overthrow as Jack Witte ('12)  stole second base.
However, Paly couldn't hold the lead for long  as Campolindo pulled away in the 3rd inning with a grand slam that brought the score to 1-5.
"I went for the curve ball for a strike and kind of babied it, left it up," starting pitcher Ben Sneider said. "I thought it was going to be a catchable fly ball, but the wind just took it and carried it. All it took was one swing at bat to change the momentum of the game."
Campolindo did not stop there. After the grand slam, a three-run homer in the 5th inning gave them an even bigger lead, putting them up by eight runs.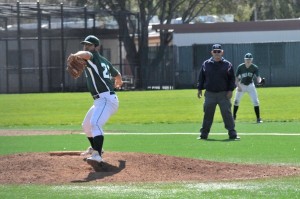 The Vikings narrowed the deficit when Austin Braff ('12) hit a triple and was then brought home by John Dickerson ('12), bringing the score to 2-9.
Still, The Vikings continued to fall behind after a passed ball in the 5th inning led to a run. In the 7th inning, Campolindo struck again with the long ball, hitting another grand slam that brought the final score to 2-14.
Despite the loss, the Vikings were content with their performance, due to the high level of Campolindo.
"[We] did a good job, they are just better than us," Raich said.  "They hit three balls with runners on.  You take those three home runs away and it's a really close ball game."
The Vikings will continue their non-league schedule with games at Bellarmaine on Tuesday, February 28, at 3:30 p.m and Tracy at home on Thursday, March 1st, at 3:30 p.m. League play will begin Wednesday, March 7th at 3:30 against Wilcox.
About the Writer
Emy Kelty, Staff Writer
Emy is a senior at Paly and is one of two editor-in-chiefs of  The Viking.  She currently plays varsity soccer and lacrosse at Paly.  In her free time...