Girls' lacrosse beats Los Gatos, 17-12
On a crisp Friday evening under the home lights, Paly girls' lacrosse defeated Los Gatos High School 17-12.
Paly's own cheerleaders made an appearance to encourage the Lady Vikes, and performed a routine during the half-time break. The girls' dependency on this game to move on in the season brought out a level of intensity in the game.
"Los Gatos is always a huge rival so we really wanted to go into this game hard and play our best," co-captain Kimmie Flather ('12) said. "I think we really did."
With only one minute underway, Paly showed its dominance with a goal from Charlotte Biffar ('13).  Following this strong start, the Vikings and Cats battled back and forth, both failing to break the others' defense. Six minutes after Paly's initial goal, Los Gatos responded with a quick shot.
Paly responded immediately with another goal by Biffar, bringing the score to 2-1.  A seven minute scoring drought ensued, until Paly finally came out with another goal from Bria Vicenti ('13).
Gatos bounced back only 15 seconds later with another smooth shot, bringing the score to 3-2.
With under ten minutes left of the first period, the Vikings took off with a four point winning streak in the duration of four minutes.  Nina Kelty ('13) landed the first of four goals with an assist from Layla Memar ('12), and was followed by a goal from Biffar, then AnaMarie Drez ('14). Biffar wrapped up the final of four with another goal, bringing the score to 7-2.
In a three minute lag, Paly defense held strong against an aggressive Los Gatos offense. The Cats managed to break the barrier with its' last score of the period.
The Vikings ended the first period with two consecutive goals from Flather bringing the score to 9-3.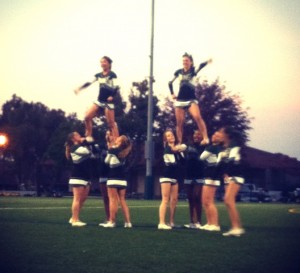 With renewed spirits and a boost of motivation from the Paly cheer squad, the Vikings prepared to finish what they began.  However, Los Gatos proved unwilling to surrender, taking the first two shots of the period within 20 seconds of each other, bringing the score to 9-5.
Paly responded another 20 seconds later with four consecutive shots, bringing the score to 13-5.
Gatos fought back with a winning streak, closing the lead by three points. Biffar and Flather each scored another goal, followed by three consecutive goals from Los Gatos. With 4:40 minutes left in the final period, the score was 15-11.  At this point it was clear that Los Gatos was prepared to close the gap, as a Gatos supporter called out, "Four minutes, four goals!".
The Vikings relentlessly powered through the last four minutes, allowing Gatos only one more goal. Biffar and Flather took the last two shots for Paly, bringing the final score to 17-12.
Due to recent setbacks, this game was of utmost important to the Vikings. With this victory over a tough competitor,  coach Jamie Nesbitt  was pleased with the girls' performances.
"With all we've had to bounce back from, and such a long season, we look to ramp up," Nesbitt said.  "One thing we do is step up to our competition."
The Paly girls' will play Leland High School next on Wednesday 2 at the Leland fields.
About the Writer
Nora Rosati, Editor-in-Chief
Nora is currently a senior at Paly, and is a captain of the varsity girl's cross-country.  She joined The Viking because of her love of sports.  Nora...