Viking Lily Zhang gets ready to compete in the 2012 London Olympics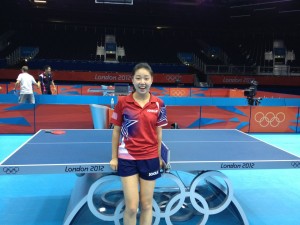 Updated 12:00 p.m. on July 27:
Lily Zhang ('14) will compete tomorrow, July 28, at 11:15 a.m. BST against Cornelia Molnar of Croatia  in the first round of the women's table tennis tournament at the ExCeL stadium. Keep up with all of Zhang's matches and results here.

Lily Zhang ('14) would probably be one of the few Vikings fit and active enough to be able to burn off the free Big Macs from the world's new largest McDonald's in the London Olympic Park.
After all, she's now not just that little girl who trained in the musty dance room after class every day at Jordan Middle School and who gave your friend a good beating with ball and paddle at lunch. She's now Olympian Lily Zhang, the youngest child of Team USA's fearsome teenage table tennis threesome.
In a country where table tennis often has an underwhelming reputation as a recreational sport, Zhang and her fellow teammates Ariel Hsing and Erica Wu are turning up the heat. All just 16 and rising high school juniors from California (Hsing from San Jose and Wu from Arcadia, near Los Angeles), these three are the faces of growing American involvement in table tennis, and are among some of the youngest athletes that will compete in London.
Zhang, who trains with Hsing in the ICC Table Tennis Club in Milpitas, Calif., took the second spot on the U.S. women's team after beating Canada's Anqi Luo in a five-game final match at the North American table-tennis qualifier in Cary, North Carolina. That victory qualified the United States for the three-member team competition, which then allowed Wu (who beat fellow American teammate Judy Hugh to clinch a third-place national ranking) to punch her ticket to London.
"I'm so excited," Zhang wrote just after arriving to the athletes' village at 12:25 a.m. London time on Wednesday. "It's such an amazing opportunity and it's been my dream ever since I was a little girl. I think the coolest thing here is to actually meet the other athletes of the U.S. and different countries and be able to interact with them."
Zhang had to also get through Canada's 43-year-old veteran Chris Xu, who is renowned as one of the masters of the "chopping" forehand, a technique that often traps younger, less-experienced players into quick losses, to get to her spot in the finals.
Before that, she also powered her way through a difficult shoulder injury in February and March – "The doctor told me to take a break for six weeks, but I didn't really listen to her," she told Dan Friedell of ESPNHS in April.
And before that, well, she won lots of competitions, including one on the Gauntlet, Paly's InFocus Television Network's drama-like athletic competition.
In any case, by the time you've read this article, Zhang probably has just finished unpacking her new clothes and gotten her sleep, or "Bo Peep" as the Brits might say.
"We get literally two huge bags of clothing, plus our opening and clothing ceremony outfits," she wrote.
Zhang might earn the envy of many other teenage girls – after all, she gets some limited-edition Ralph Lauren designer sportswear.
But lest we forget the food. After all, it's what athletes want after some of the biggest competition of their lives, right?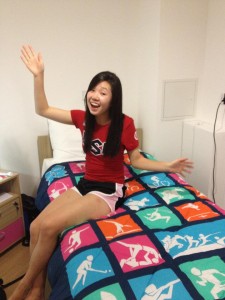 "The food here is amazing," Zhang wrote. "There's like every kind – British, European, American, Asian, Indian… every kind."
She'll have time to eat all of the different cuisines and enjoy her free McDonald's, but maybe not all before her first match. Zhang will play first in the Women's preliminaries and round 1 session on July 28th, between 9:00 a.m. and 12:45 p.m. BST (that's nine hours ahead of PST). Access the full schedule for the Olympic table tennis competition here.
Leave a Comment
About the Contributor
Hilda Huang, Business Manager
Hilda Huang is a senior and joined The Viking in her junior year because of her love for athletics. After serving as a copy editor her junior year, she...