2012 Palo Alto football season preview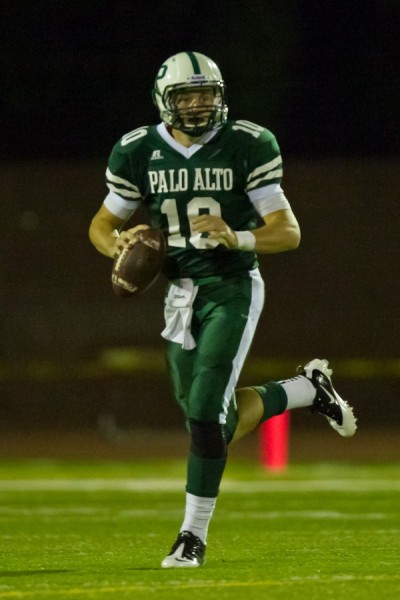 Two years removed from its state championship, the Palo Alto Vikings football team will look to bounce back from last year's loss to Bellarmine in the semifinals of the Central Coast Section (CCS) Open Division playoffs. The Vikings hope to improve on a 10-3 (6-1) record and rebound after losing many key contributors.
–Offense–
Key Losses: B.J Boyd ('12), Dre Hill ('12), Tory Prati ('12), Morris-Gates Mouton ('12)
Key Returners: Keller Chryst ('14), Matt Tolbert ('13), Jayshawn Gates-Mouton ('13)
This year's team is much younger and lacks the experience of previous Paly teams, but is captained by the quarterback Chryst. Chryst, who is already fielding offers from many Division 1 schools, will look to build on an excellent sophomore campaign in which he threw for over 2000 yards and connected for 28 touchdowns.
Tolbert will take over the reins at running back this year, after spending most of his time last year on the defensive side of the ball. Tolbert will look to be a sparkplug in the backfield this year, replacing the steady duo of M. Gates-Mouton and Hill. In addition, J. Gates-Mouton will look to fill the void that Boyd left at wide receiver. J. Gates-Mouton racked up 518 yards and hauled in 5 touchdowns. Although J. Gates-Mouton will not match Boyd's production for the Viking last year, expect him to emerge as Chryst's primary target at wide receiver. Despite the expected drop-off in offensive production, the Vikings have more than enough firepower to get through league play and with more experience, look for them to compete with possible CCS contenders.
–Defense–
Key Losses: Nathan Hubbard, Gabe Landa, Austin Braff
Key Returners: Drew Rider ('13), Andrew Frick ('14), Erik Anderson ('13)
The defense, nicknamed "The Swarm" during the 2010 season, once again stifled opponents last season. Hubbard, Landa and Braff were some key pieces to last year's defense and left a big hole for this year's team. Ryder, Frick, and Anderson will look to keep the tradition of stellar Paly defenses going. This year's defense will be good enough to get the Vikings through league play, but it remains to be seen whether it can withstand the potent offenses of the West-Catholic Athletic League and other CCS contenders.

The Bottom Line-
The loss of the skill players who were dynamic for the Vikings last year will definitely lower expectations for this year, but look for Chryst to connect with his new weapons and help the Vikings compete for another league title and possibly a chance for CCS redemption. The youthful exuberance that the Vikings bring to the field will once again make them a team to keep an eye on this year.
Season Prediction: 9-1
Schedule:
09/07 – 7:30    @San Benito
09/14 – 7:30    Archbishop Mitty
09/21 – 7:30    Gunn
09/28 – 7:30    Milpitas
10/05 – 7:30    @Homestead
10/12 – 7:30    @Wilcox
10/19 – 7:30    Los Gatos
10/26 – 7:30    Saratoga
11/02 – 7:30    @Mountain View
11/09 – 7:30    @Santa Clara
Watch a video preview here.
About the Writer
Rohit Ramkumar, Staff Writer
Rohit is a junior at Paly. He plays varsity basketball and varsity baseball. Rohit joined The Viking in the 2011-2012 school year.  In his free time, ...