Sloppy play highlights team's 6-1 loss to Saratoga
The Palo Alto High School girls' tennis team (4-2, 0-1) fell 6-1 to Saratoga High School (3-3, 1-0) on a hot and sunny Tuesday afternoon at Paly.
No. 2 singles player Felicia Wang ('14) was the only Lady Vike to win her match, beating Smita Sabada ('14) 1-6, 7-5, 6-4.
The results of the remaining matches are as followed:
No. 1 singles – See match summary below
No. 3 singles – Arithi Sabada ('15) defeated Caroline Nore ('14) 7-5, 6-1
No. 4 singles – Meera Rachaella defeated Kelsey Wang ('16) 3-6, 6-2, 7-6 (7-2)
No. 1 doubles – Cori Posadas and Amy Jan defeated Sammy Solomon ('13) and Tiffany Nguyen ('13) 6-4, 7-6 (7-4)
No. 2 doubles – Erelin Ju and Kim Chou defeated Hollie Kool ('14) and Katy Abbott ('13) 6-3, 7-5
No. 3 doubles – Jan Jin and Shaya N defeated Juliianne Le ('14) and Madeline Lee ('15) 6-4, 6-3
The closest and longest match of the day, however, belonged to Paly's no. 1 Aashli Budhiraja ('14) and Saratoga's ace Kalyani Narayen ('14). The match lasted slightly over two hours and was a back and forth affair.
Budhiraja, who served first, started out slow, double-faulting on the first point of the match. Narayen capitalized on a couple more unforced errors by her opponent to break Budhiraja and take the first game of the opening set.
Budhiraja returned the favor in the second game, breaking Narayen back in commanding fashion. Budhiraja won all four points of the game, which was highlighted by an un-returnable drop shot winner from the Lady Vike on the last point of the game.
Then back on serve, Budhiraja took advantage of two unforced errors from Narayen to earn a quick 40-15 edge in the third game. After mishitting a ball of her own, Budhiraja responded by scorching an empathic forehand winner past her opponent to take the game and a 2-1 lead in the set.
After the change-over, Budhiraja picked up right where she left off, overpowering her opponent with one potent groundstroke shot after another and jumping out to a 15-40 advantage.  Narayen, however, kept grinding out long rallies and responded with a few winners of her own to win three straight points and seize the fourth game.
The fifth game was the closest of the first set. With the score of the game tied at 40 apiece without "ad scoring," the game went to a final and decisive point. After a back and forth rally of approximately 10 shots, Budhiraja ripped a cross court forehand that Narayen lunged for and managed to squeak over the net where Budhiraja was waiting. Budhiraja then put away the easy forehand volley to regain a one game lead in the set.
Narayen managed to win the sixth game in a similar fashion to tie the score of the opening set (3-3).  After six points riddled with unforced errors, the score stood at 40-40.  Budhiraja couldn't handle Narayen's serve, sending her return past the baseline and losing the point and the game.
The following game Budhiraja committed one unforced error after another and appeared to become frustrated with her seemingly poor and uncharacteristic play. She did not win a single point in the game, losing the last point after double-faulting.
Once again, however, Budhiraja responded in the next game, toughing out several long rallies to take a 15-40 lead.  As Budhiraja had in the proceeding game, Narayen culminated the game with a double fault, handing her opponent the game and opening the door for Budhiraja.
Budhiraja seemed to be playing inspired tennis in the ninth game, hitting harder serves and playing more aggressively. However, Narayen met her opponent's intensity and won the game in deuce.
Narayen then held serve in the 10th and final game of the first set to take the set 6-4.
Budhiraja limited her errors at the start of the second set and jumped out to a quick 2-0 lead. Both players remained on serve until the eighth game when Budhiraja dominated the action, breaking Narayen in four quick points.
Budhiraja went on to hold serve in the ninth frame, taking the second set 6-3.
Narayen and Budhiraja started the third and final set by each holding serve in the first and second games, respectively.
Budhiraja broke Narayen in the third game, however, winning relatively easily after a 40-15 lead. Budhiraja and Narayen again exchanged holds of serve in the forth and fifth games to make the score after five games 3-2.
Narayen then managed to break her opponent in the sixth game but was broken in the next to make the score 4-3.  At this point these two players were the only ones left on the courts, as every other match had already concluded.
Behind her aggressive forehand, Narayen managed to break Budhiraja in the next game and hold serve in the ninth to regain the lead at 5-4.
In front of a crown of nearly 60 people (made up of players, parents and coaches) Narayen then jumped out to a quick 30-40 lead in the 10th game.  Facing match point, Budhiraja hit Narayen's return into the net and frowned in the face of defeat. Narayen on the other hand was elated and let out a yelp of joy, having come out of top 6-4, 3-6, 6-4. The two shook hands at the net, concluding the event between the two schools.
Overall Budhiraja was satisfied with her performance.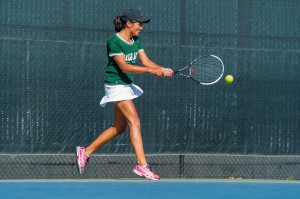 "I think I played pretty well," Budhiraja said. "I mean there are a few things here and there that I need to work on but overall I think I played well. I've played [Narayen] quite a lot outside of school tennis and it's usually really close.  Unfortunately I didn't [come out on top] today."
Budhiraja's coach Andy Harader was comforted with how his team competed with powerhouse Saratoga, but was still disappointed with how sloppily he felt most of the girls played.
"It's the closest match we've played with Saratoga, I'd say in three years," Harader said. "So in that respect, I feel good. We played them competitively and we haven't done that in three or four years but I think that the team really did not play well today. Somehow there's a lot of lethargy out there, a lot of missed shots, unforced errors and it's something we can correct."
The Vikings look to rebound from this, their first league loss of the season, when they take on another league opponent, Mountain View, this Thursday.
Leave a Comment
About the Contributor
Kevin Dukovic, Editor-in-Chief
Kevin is a senior and joined The Viking staff at the beginning of the 2011-2012 school year.  He has an older brother (Brandon) who was also on staff...