Fresh out of Luck
Before Stanford played USC, I was ready to write a long column on all the ways the Cardinal needed to step up in order to repeat the success of previous seasons. After its first two games, Stanford seemed like it wouldn't be able to win against a decent team.
But as I stormed the field with the rest of the fans after the huge upset over the number two team in the country, I knew I'd have to change it. The Stanford Cardinal had beaten USC for the fourth year in a row, and this time, they did it without Andrew Luck.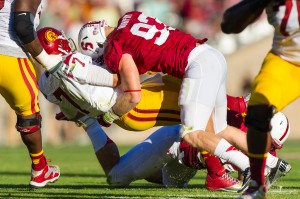 The two-time Heisman trophy runner-up broke numerous records while at Stanford, leading his team to two consecutive BCS bowl games. In fact, his three years and 9,430 yards marked one of the most successful eras Stanford has ever had.
After finally declaring for the 2012 NFL Draft, Luck left the Cardinal with a 31-8 record and a perennial college football powerhouse image. He also left the Cardinal without an elite quarterback, something that they had relied on for three years. It is true that the Cardinal, or any other football team, need a quarterback in order to pull off another winning season. After all, Stanford seemed like it could only win games with Luck. But in order for the Cardinal to succeed, they are going to have to forget about Luck or statistics and focus on their team as a whole.
This year, Stanford started out the preseason ranked at No. 21 in the country, dropping from their No. 7 ranking at the start of the 2011 season. Even after such drastic losses from the Cardinal roster including Luck, Jonathan Martin, David DeCastro and Coby Fleener, they were still ranked within the top 25. I was one of the many who believed that Stanford wouldn't stay there for long.
In short, the Cardinal were up to the challenge. Yes, expectations were low, as many fans figured that there was no way the new quarterback, Josh Nunes, could give Stanford another winning season. Other Pac-12 teams such as Oregon State and Arizona State were stepping up and beating teams from bigger and more prestigious conferences. Oregon and USC were ranked in the top 10. To me, Stanford looked like a team without a leader who wouldn't stand a chance against other decent NCAA teams. But against USC at Stanford Stadium, the Cardinal proved that they were still the same powerful, high octane offensive front by gaining 417 overall yards and scoring 21 points.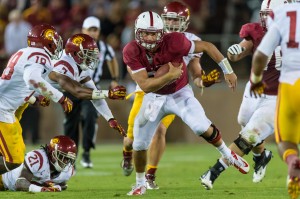 Not only did they put points up against the Trojans, but more impressively, the Cardinal stopped receiver Marqise Lee, a Heisman contender, and Heisman favorite Matt Barkley. More importantly, where was Trojan receiver Robert Woods? The Cardinal silenced one of Barkley's main targets and one of the best receivers in the nation, holding Woods to only four catches for 38 yards. The Cardinal defense showed its strength in the secondary, picking Barkley off twice, as well as a strong defensive pass rush which recorded four sacks.
For some reason this year, Stanford players such as running back Stepfan Taylor or even All-American linebacker Chase Thomas seemed to be forgotten, shadowed by the darkness of the missing quarterback dilemma.
After so many critics claimed that Nunes couldn't lead the Cardinal, the USC game showed he doesn't have to. Taylor proved that he was still the same game changing impact player and leader by pounding the ball in for two touchdowns against the second ranked team in the country.
As USC changed its defense to try to stop Taylor, Nunes showed that he could step up to the plate and help the Cardinal by delivering a game-changing first down run late in the fourth quarter, as well as the go-ahead 37 yard touchdown pass to veteran tight end Zach Ertz.
It was a great surprise to learn that Stanford has the talent to stay where it has been for the past few years. To be able to beat a team like USC shows that Stanford is still a dynamic football team that once again will have an opportunity to be one of the best in the Pac-12. As one sign in Stanford Stadium put it, "Luck had nothing to do with it."
About the Writer
Josh Stern, Editor-in-Chief
Josh is a senior at Palo Alto High School. This is his second year on The Viking. He plays varsity lacrosse and likes watching football.  He is a big...