Paly has qualified 10 athletes for the Central Coast Section (CCS) Championship finals at today's CCS semifinal meet in Gilroy. In the running disciplines, the winner of each heat advances, as well as those with the next four fastest times. In the field events, the top eight scores qualify for the finals.
E.J. Floreal ('13), who set a new school record in the 100 meter run (10.52) at the end of April, finished first in his heats for both of his races today, the 100 meter and 200 meter runs. In the semifinals, he ran a 10.85 in the 100 meter, good enough for third overall, and 21.66 in the 200 meter for first, 00.19 faster than the next finisher, Jordan Soares ('12) from Gilroy. Tremaine Kirkman ('12) also put out a solid performance in the 100 meter, qualifying for the finals with a time of 11.03 seconds.
In addition, the boys' 4 by 100 meter team of Floreal, Kirkman, and brothers Morris and Jayshawn Gates-Mouton ('14, '12) took a clean overall win with 42.13 seconds, a full 00.25 faster than the second place finishers from Bellarmine College Preparatory. The 4 by 400 meter team of M. Gates-Mouton, Jonathan Alee ('13), Nick Sullivan ('13) and Nikolai Solgaard ('12) took second overall with a time of 3:22.95. Solgaard also took an overall second in the 800 meter run, with 1:55.72.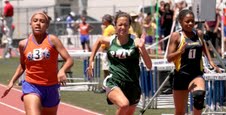 In the boys' field events, Victor Du ('13) showed a strong jumping presence, finishing seventh and qualifying for the finals in both the long jump (21 feet and 0.5 inches) and high jump (6'3"). Eilon Tzur ('13) took  10th in the triple jump, with a distance of 43'6.5". Paly did not qualify any boys in the throwing events for the CCS finals.
For the girls on the other hand, Lindsay Black ('12) took an overall solid third in the shot put, throwing 39'0.5", and Anna Dukovic ('14) shared sixth place with two other girls who jumped 5'1" in the high jump.
The girls fell just short in the running events of qualifying for the finals, with the 4 by 100 meter and 4 by 400 meter teams placing 10th and Katie Foug ('14) running a 5:15.49 mile, good enough for 16th overall.
Thus the team will send a total of 10 athletes to the CCS finals, next Friday, May 25, at 4:00 p.m. at Gilroy High School.
The complete results for today's competitions may be found at the CCS semifinal results page.