…but Jeremy Lin ('06) is in for a rough few weeks. I know how foreign that may sound, what with him leading the before-terrible Knicks to wins in 8 out of their last 10 games, including a 7 game winning streak. Yes, he has scored the most points in his first 6 games since the NBA/ABA merger in '76. Yes, out of the 12 people with 20+ points, 6+ assists and 50%+ shooting in four or more straight games, he, LeBron, Dwayne Wade and Kevin Garnett are the only ones who aren't Hall of Famers. Yes he has a bunch of sick nicknames and basically a new word is made from his own name, that being Linsanity. Yes. This is all true. But, there are bigger forces in play here.
Yep. I'm talking about the Sports Illustrated cover jinx.
Jeremy here is going to be on his (count it) second straight SI cover.
But. The divine spirits of the sporting world clearly have much more planned for young Jeremy. Again, I hate to say it…but something drastic might happen here.
It's basically impossible to argue the SI cover jinx, especially with someone so adept at Wikipedia researching like yours truly. Or the fact that the NFL playoffs and Super Bowl were just one big amalgamation of examples for me to pick out. (For all those sticklers, I don't care that amalgamation probably isn't the correct word here. It looks and sounds cool and I'm the one writing the column here.) Also, for all those who say Madden's cover jinx is better…no one asked you.
Did you, reader, by chance notice that after Aaron Rodgers bathed in the glory of seeing his face on the cover, he posted a QB rating of 78.5 in their loss to the Giants? Or that after both Tom Brady and Robert Craft both were pictured on consecutive covers, I guess insinuating that SI picked the Pats to win, they came up short against those same Giants in Super Bowl XLVI (46 for all those who aren't stuck in the Roman Empire)? Or how our lovely hometown team, the 9ers, lost the week after a pic of Alex Smith under center was plastered on the January 22 cover.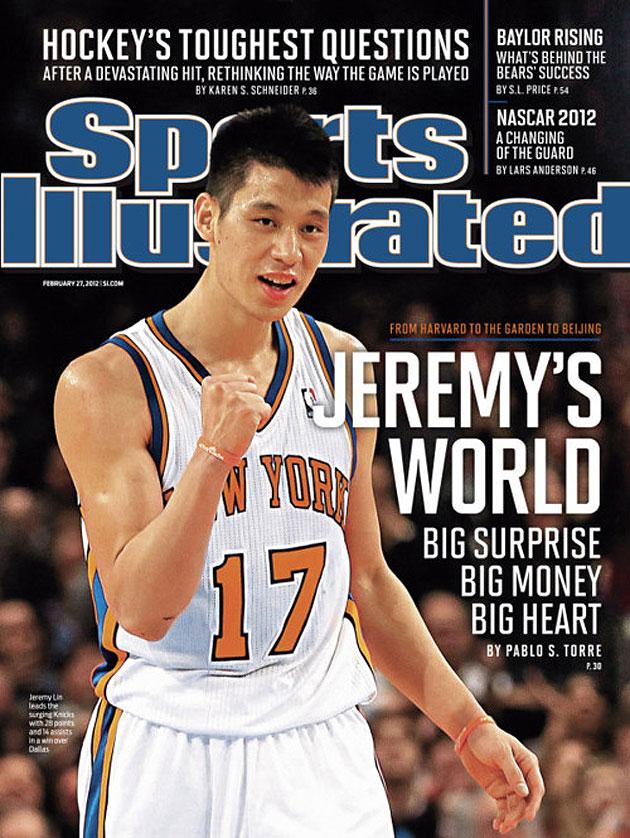 Exactly. Or how Yorvit Torrealba, the Rangers catcher, graced the cover last October, but how the Rangers, despite being one out away twice, were unable to seal the deal?
Or even our own Jeremy. The week after he got his second chance for an article (Bet you didn't know that he had an article about him while he was still at Harvard, did you? And these are the times where childishly ripping out photos of magazines and throwing them up on your wall benefits you. That and making your room look amazingly sick.), and his first cover story, unfortunately, Mr. Lin and his 9 turnovers here fell to the Hornets, who by the way have the second worst record in the league.
What's next? Is he going to fracture something horrific, or a career-ending injury? I hope not. And I'll have you know I didn't just jinx him. Sports Illustrated did.
[Postscript: This is completely sarcastic. I can foresee Jeremy having a fantastic career ahead of him. Because that something drastic I mentioned earlier? Well if you consider that the only other two people to grace SI's cover two consecutive weeks are Michael Jordan and Dirk Nowitzki, it might put a few things into perspective. Hard to argue with the careers of those two people, but since this is me, I'll try. MJ…don't have much against you except that the idea of coming back outta retirement for the Wizards was a God-awful idea and whoever convinced you to do that should be "swimming with the fishes" like Luca Brasi did in The Godfather. As for Dirk, well, your season pretty much sums it up. Its been pretty bad. Like pretty bad. And…that's all folks!]