Back in the Box
Sam Borsos and Jacob Lauing, Managing Editors
April 23, 2012
Baseball is a game of adjustments. A flyout teaches a hitter to stay on top of the ball. A walk does not discourage a pitcher from pounding the strike zone on the next at-bat, it drives him to try even harder. A baseball player is considered great for getting a hit just thirty percent of the time. Even though perfection is unreachable, every athlete from a backyard little-leaguer to a hall-of-famer strives to have a perfect season, an undefeated record and to be the best on the squad.
So what happens when players step off the field? The same idea of perfection applies. The pressure to be right, the expectations to practice morality, the assumption that to be the best you can't make mistakes. Whether it's on or off the field, perfection is impossible.
Just as an baseball player can strike out during a game, he can strike out in life. What separates a good athlete from a great athlete is not the strikeout itself, but how he reacts to it.
Palo Alto High School varsity football and baseball player Ozzy Braff ('12) is no stranger to pressure. Sure, lots of young athletes and students deal with stress, but Ozzy has not had the typical high school experience. As most sophomores and juniors worry about SAT scores and college applications, Ozzy has dealt with a little more. Choices he made a couple years ago led him on a journey that changed his life.
Ozzy is 5' 10", with a hulking muscular frame, a 2011 All-League Co-Outstanding Tight End in football, and a 2011 First Team all-league shortstop in baseball. But he's not your typical two-sport athlete.
"He's one of the best players around in his age group, but real shy," childhood club coach and family friend Donny Kadokawa said. "Usually the best athletes are real outgoing, cocky, but he's far from that. You tell him he's good and he's like 'Nah, I'm not that good.'"
His soft-spoken nature can come across as intimidating, but he's a jokester when you get to know him. You won't see him on Facebook late into the night, because he doesn't have one. He prefers face-to-face communication and only recently got a cell phone. He loves nature, adventure, and a good country song. While most Paly students drive off with their friends during lunch, Ozzy goes home every day.
He doesn't like crowds.
Ozzy's parents, Jon and Colleen, began to notice their son's unique personality develop at an early age.
"He was the most conservative kid growing up," Jon said. "Very cautious. Conservative. Rule follower. Kind of a perfectionist. If he was doing art in class that didn't turn out quite the way he wanted to, he'd crumple it up and throw it out and start all over."
As a young athlete in elementary and middle school, Ozzy was more physical than most kids his age. At age nine, he played on Little League Majors team, PASCO, with his older brother, former Paly first baseman T.J. Braff ('11).
"In Little League, he was incredible," Little League teammate, next-door neighbor and current Paly baseball teammate Rowan Thompson ('13) said. "For other teams, when you had to face Ozzy, you had two choices: you could either walk him, or he would hit a homerun. He averaged probably two home runs a game. We used to say, 'Oz is going to the pros. Get his autograph now while you can.'"
But in seventh grade at Jordan Middle School, Ozzy had surgery on his shoulder to repair a torn labrum after a sporting injury. He was unable to play football or baseball, and for the first time in his life, he had a schedule without athletics.
"I think so much of his identity and who he saw himself as involved sports, and it was taken away," Jon said. "He was looking for other ways to fill that void."
As Ozzy began to fill this emptiness, frequently acting up with his friends, others started to see changes in his attitude and behavior on and off the field.
"We were hitting one day at Paly, and he's the one that's normally hitting the ball over the fence, and he wasn't even close," Kadokawa said. "I knew right away something wasn't right. You could just tell."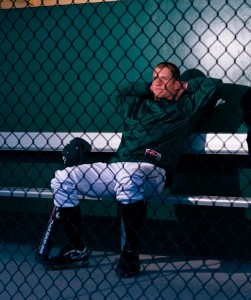 Jon wanted both his boys to attend a high school like the one he had attended, a private Christian school, but Ozzy and T.J. chose different paths. T.J. came to Paly, while Ozzy settled on St. Francis High School a private Catholic high school, and one of the Bay Area's biggest athletic powerhouses, as his new school.
From the school's establishment in 1954 until June of 2009, the "Lancer" athletic program has accumulated 16 State Championships, 21 Northern California Championships, 124 Central Coast Section (CCS) Championships, and over 200 League Championships. All have been in the ultra-competitive West Catholic Athletic League, which has produced many professional athletes, including baseball home run king Barry Bonds and New England Patriots Quarterback Tom Brady.
Upon Ozzy's arrival, however, things did not mesh, and he began to fall off track. As a sophomore, he became one of the few underclassmen to play on the St. Francis varsity baseball team, which is currently ranked third on the Maxpreps Xcellent 25 National rankings. He quickly felt out of place, feeling the need to conform in order to fit in.
"When I got there, it was fake in a way," he said. "I was trying to be someone who I wasn't meant to be. [Everything was] all out of whack."
This feeling of disconnection carried from the baseball field to home. Ozzy became detached from his family. With a different schedule from T.J., the brothers barely saw each other.
"It was really hard because we were so close always growing up, being one year apart, and it was a big change," T.J. said.
School revolved around baseball, and baseball became a job, consuming all of his time and energy.
"[Baseball] was his life," Jon said. "Ever since he started doing more competitive baseball, he lost the fun in it. It was just like every game and practice, man, you had to perform. He'd go into his room after a tough game, shut the door and that'd be it."
Off the field, Ozzy felt the need to escape. He continued to spend weekend nights with the same friends from middle school that he got into trouble with. Eventually he began to associate himself with those who drank alcohol and did drugs not only for social use, but to escape their problems.
"I really think even if Ozzy had gone to Paly his freshman year, he would've gotten in trouble with the same problem," Jon said. "He still would've had a lot of those same pressures."
Ozzy and his friends shared the same outlook: Life in Palo Alto was unsatisfying. This perception, along with their search for freedom, resulted in a plan to get away.
"We were talking [how] in future, it'd be like a year, we'd be out of here in a whole different place," Ozzy said. "Things would be a lot better [with] this image that life is peaceful for once."
The idea of leaving seemed more appealing to Ozzy every day. Even though he was only 16, he felt the need to get away from the pressure and daily expectations to perform. Late at night on March 27, 2010, with his parents asleep and unaware of his plan, Ozzy's desire to escape turned into action. Just seven games into his baseball season at St. Francis, Ozzy and his friend ran away to L.A., leaving their troubles behind.
"[I] went home, got all my stuff, hopped in the car, picked [my friend] up, and we were off," Ozzy said.
Ozzy felt no regret.
"At that time when I was driving, a bunch of weight was just coming off me and I couldn't stop," Ozzy said. "We were laughing and feeling amazing, which I hadn't felt in a while."
The weekend he left, Ozzy was scheduled to go on a baseball recruiting trip at the University of Washington (UW). But with Palo Alto in the rear-view mirror, baseball was the last thing on his mind.
"The hardest part is just to know how unhappy he was," Jon said. " I had no idea it was coming. No idea. I could tell he was unhappy for the past year, but I just did not know the depth of the unhappiness."
The Braffs received snippets of their son's whereabouts, and were quick to react. Jon jumped on a plane and flew down to L.A. the morning they found Ozzy's room empty.
In L.A., Ozzy was staying with an old friend he knew through St. Francis, looking for a job, and trying to start a new life for himself. His plan was to stay there permanently; he had even brought his birth certificate with him. Although the friend welcomed Ozzy to stay in his home, he also promptly called the Braffs, without Ozzy knowing, to notify them of their son's exact location. After searching the area for three days, Jon successfully located Ozzy, and showed up at the house unannounced.
"I can't even describe what I felt," Ozzy said. "It just sunk in. From that moment I was like, 'What are you doing?' It brought me back."
Jon gave Ozzy two options: either a severe punishment, possibly jail, or a chance to discuss the next step with his family back in Palo Alto. Ozzy chose the latter, and like a baseball player walking back to the dugout after a strikeout, he drove up the California coast, left alone with the feeling of failure, his mistake repeating over and over in his head.
"[I] just [felt] that shame feeling, like 'I can't believe I did this'," Ozzy said. "The closest thing I can compare [the drive home] to was like a dream. A dream filled with bad emotions."
Most athletes know the feeling. After a failed opportunity or strike-out, baseball players will sometimes throw a helmet or let out a curse, but eventually calm down and find a quiet place in the dugout. Without the distractions of his teammates and coaches, the player can mentally bring himself out of the game for just a moment, analyze what went wrong, and figure out how to succeed on the next play.
Months before Ozzy left for L.A., the Braffs had been preparing for something like this. The family had been meeting with a therapist, who directed them to Paly alumnus Douglas Bodin ('83), an Educational and Treatment Consultant at The Bodin Group consultant company which helps guide families in picking the right therapy program for their kids.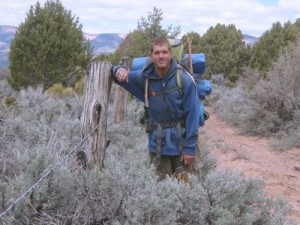 "We had a sense of what options we would be looking at and then when [Ozzy] ran away we had to quickly decide," Bodin said. "It was actually really complicated based on what his needs were academically, socially and emotionally. [I picked the program based on his] interest in sports, vivacious and fun-loving personality, and his involved and very intelligent family."
Only eight hours after arriving home from L.A., Ozzy had no idea what Colleen and Jon had planned for him. The following night he was woken up unexpectedly by three large men who transported him directly to the airport. With two of them in the front seat of a car, Ozzy sat in the back with the child lock on.
"They told him, 'Don't think about running: we will catch you," Colleen said. "'Don't think about fighting us: we will fight you.'"
Ozzy was sent to the wilderness of Kanab, Utah, just North of the Grand Canyon. Bodin had assigned him to Wingate Wilderness Therapy, a six to eight week program designed to help struggling teens find a new direction and purpose in life.
For the equivalent of almost an entire baseball season, Ozzy was surrounded only by nature. He drove out on a bumpy unpaved road, and with just rocks and sand beneath the car, he had no idea of his exact whereabouts.
"I wasn't feeling anything," Ozzy said. "When they dropped me off I felt like all my emotions had been taken, dead. It took me a day or two to be like, 'Damn', and all this shame was brought on me."
A typical day in the program would start around 6 a.m. After spending a night sleeping under the stars, Ozzy and the boys would wake up, get a fire started and cook their own breakfast. Without knowing the distance or destination ahead of them, they would be led on hikes anywhere from two to 10 miles. The walks mirrored the lives of these struggling teens, who were taught to take their recoveries one step at a time.
"They have to learn to focus on the here and now, instead of, 'When are we going to stop?'" Wingate owner and clinical director Scott Hess said.
Hess also served as Ozzy's therapist during his time in Utah.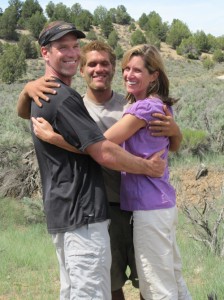 "If you're going to run a marathon, you know that after 26.2 miles you're going to stop," he said. "They don't know that in the program. It's a whole other mental area to get what that feels like."
Ozzy's new daily routine was near opposite of his schedule before. Baseball practices were replaced with long hikes. Homework time was swapped for journal entries. They told time by the sun and only had their thoughts at night. No showers, technology or outside communication.
"We turn on radios, we have our TVs on," Hess said. "We do a lot of things so that we don't actually have to stop and think about who we are. That's a big part of what the wilderness is about, you remove a lot of those things and kind of expose the self to the person."
Without society's disturbances, Ozzy could freely reflect on his mistakes and begin his path towards recovery.
As things settled down in the lives of the Braff family back in Palo Alto, Ozzy was nearing the end of his time in Utah. Ozzy felt ready to graduate from Wingate, but not quite ready to come home. With all of the introspection Ozzy endured, there had to be a middle ground between the remote wilderness of Kanab, Utah and the structured, often hectic life of Palo Alto.
"[I still had to work on] taking all that stuff I learned out there and bringing it back," Ozzy said.
He was not yet ready to come home, but he was ready for the next step on his journey there.
On June 5, 2010, just a couple months before Ozzy's 17th birthday, the Braffs took another one of Bodin's suggestions to send him to Bonner's Ferry, Idaho, a town with a population, not much more than Paly. Thirty miles South of the Canadian border lies Northwoods Academy, an all-boys community house which became Ozzy's home for the next seven months. Over the summer, Ozzy took five online classes to make up for the class he had missed in the spring, and then enrolled at Bonner's Ferry High School in the fall.
He still had limited communication with those outside of Bonner's Ferry, was able to send emails once a week, and even had his family visit a couple times.
"Going to Idaho was more about developing independence," Ozzy said. "In Utah, when you went to the bathroom you would have to yell your name every ten seconds. You wouldn't be able to hold a knife unless you asked them. [There was] zero freedom at all."
In Palo Alto, Ozzy was almost always surrounded by athletes. In Idaho, however, the boys at Northwoods came from different backgrounds, each with varying talents and skills.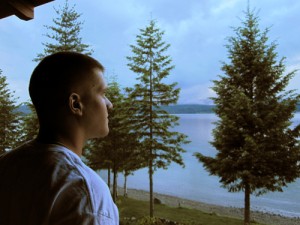 "I wanted to expand my life," Ozzy said. "Going there I saw people's talents. We just got a chance to do everything."
He got to do things he had never experienced before: cliff jumping, playing guitar, cycling, hiking, and sailing. Bonner's Ferry had no school on Fridays, so Ozzy and his friends would go snowboarding in the backyard. A year prior, these experiences would've been unexpected of Ozzy. But now, with sports no longer the priority, they became a part of his character.
"When he was here [in California], everything related to sports and being an optimal athlete," Colleen said. "In Idaho, all of that was let go. Sports were only part of the experience."
Often, athletes revolve their lives around sports schedules instead of the other way around. But even with Ozzy's new interests, his natural passion for sports could not be ignored. He joined the varsity football team at Bonner's Ferry, where he played for head coach and physical education teacher Ed Depriest.
"The opportunity to play sports, football in particular, helped a great deal just for that opportunity to do something that [Ozzy] enjoyed and not [having to] be locked into anything," Depriest said.
Not only did this mark Ozzy's first time in competitive sports since baseball back in California, but playing football in Bonner's Ferry showed Ozzy varsity sports without the varsity pressure.
"It made that football season more fun than any other season I've had in the past," Ozzy said. "After the football game was over, the next Saturday we'd be out cliff jumping or something. There wasn't a sole focus on sports."
The biggest test to Ozzy's new pressure-free sports mentality came after the quarter-finals of the class 3A Idaho state playoffs. It was a big game against a high caliber team. Ozzy's family flew out to watch. Bonner's Ferry lost 54-8. Jon, who could still remember Ozzy's frustration and disappointment after losses in the past, saw a new side of his son.
"He was bummed that they lost, but he came home and was still smiling," Jon said.
Ozzy's transformation on the field mirrored his attitude towards other aspects of his life. With T.J.'s final semester at Paly approaching, the Braffs brought up the idea of Ozzy returning to be with his brother for the remainder of the school year. The staff at Bonner's Ferry agreed that he was prematurely ready to leave.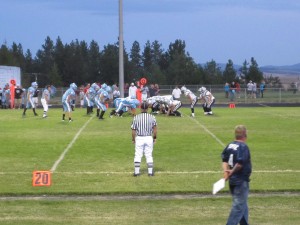 "After a certain amount of time in Idaho, I felt that I had worked on everything that I needed to," Ozzy said. "The most important things were done."
Bonner's Ferry became Ozzy's on-deck circle. After returning to the dugout and taking a moment to collect himself, Ozzy worked a new approach, all with his next at-bat in mind.
He was ready to come home.
Jan. 21, 2011 marked the day of Ozzy's return to Palo Alto, where he arrived at the start of his second semester junior year at Paly. The same town, but a completely different person.
Ozzy had spent 10 months total away from home, reflecting on his mistakes and growing. His return allowed a closer connection to T.J., who partly chose to attend Santa Clara University, a 15 minute drive from Palo Alto, to remain close with his brother.
"I can come and visit him, and he can come to the games [next year]," T.J. said. "That definitely played a big role in that."
Ozzy was ready for his return to Palo Alto, but based on the state of his departure, the Braffs remained skeptical as to whether Palo Alto would be ready for him.
"We weren't really sure how people would react," Jon said. "I didn't know how people were going to treat him, if they were going to give him grief about [what had happened]."
But the community embraced him, including old friends who knew what he had gone through.
"At first it was bit forced," Ozzy's childhood friend Nate Bills ('12) said. "We didn't know how to react to each other because we hadn't seen in each other in a while. You don't act like it didn't happen, but now you just move along with things."
As spring sports commenced, Ozzy would have an even bigger extended family to welcome him home: the baseball team.
"I think that was a good time to come back for me because I had an immediate group of friends," Ozzy said. "Just starting up baseball and having people to support me. They're a good group of guys."
With his teammates supporting him, Ozzy had some of the best offensive numbers on the team, finishing the season with a .413 batting average, a .640 slugging percentage and a .510 on-base percentage. Not only did he perform well on the field, but he finally felt at home.
"Honestly, it feels like we're 12 years old going to an All-Star game," Jack Witte ('12), second baseman, Ozzy's childhood friend and neighbor said. "It's that kind of same exact feeling, as if nothing really changed at all."
By the season's end, Ozzy found himself on a team competing for Paly baseball's first CCS championship title on May 28, 2011. In the bottom of the seventh with the scored tied at four against San Benito High School, Ozzy stepped up to the plate with a man on second — and a chance to lock up the CCS title.
But this at-bat marked more than just the opportunity for a walk-off victory. It was Ozzy's chance to complete his redemption story. In just a year, he'd been everywhere from L.A. to Utah to Idaho and back to Palo Alto.
Now, with his teammates watching from the dugout, with his brother in the on deck circle, and with his family watching from the stands, Ozzy took one swing of the bat. He sent a base hit into centerfield, scoring centerfielder B.J. Boyd ('12), and sending Palo Alto Baseball players and fans alike into a frenzy with their first CCS championship. Everyone knew nothing had changed.
"That moment was just surreal," one of Ozzy's teammates said. "After everything he had been through, it just seemed so appropriate that he would be the one at the plate in that situation. The kid that everyone in the Palo Alto baseball community knew was great since we were like six. It was perfect."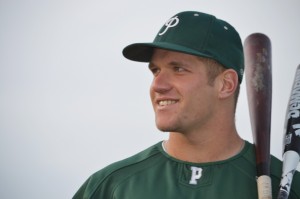 Even after stepping off the field for over a year, Ozzy proved he was still the same, remarkable athlete that he'd always been. But if you ask him about it today, Ozzy will not even acknowledge the significance of his game-winning hit, responding with his typical over-the-top modesty.
"No comment," Ozzy said of the hit. "I don't know. It felt good."
After ending the baseball season on the highest note possible, summer passed, football season began and senior year commenced, along with the college admission process. And now, it's late April and graduation is just around the corner.
Upon first glance, one might see Ozzy as the ideal Division I athlete. He even had options to attend big, Division I athletic powerhouses, such as UW. But instead, Ozzy applied to only three schools.
"He's going to go to a DIII school, and all the scouts and coaches, they don't understand why he's going to play at that level," Kadokawa said. "And to be honest, I'm still questioning him."
He recently committed to play baseball at Whitman College, a school with 1,500 undergraduates in Walla Walla, Washington. As of April 11, 2012, Whitman's baseball team has a record of 4-26, putting them third to last in the Division III Northwest Conference.
"I just feel like [going to Whitman] will be more relaxing with not as many people and less drama," Ozzy said. "Their team isn't that great, but it will still be fun. It's a whole new group of guys so that will be exciting."
Ozzy's journey marked the new beginnings of what his life is now.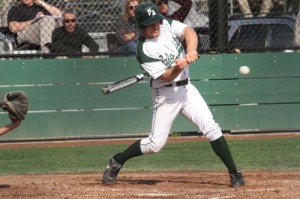 He prefers face-to-face interactions because in the wilderness of Utah that was all he knew.
He avoids crowds, and finds peace in isolation because he learned what is was like to be away from his family, his team, his past while in Idaho.
"It happens to the best of kids," Kadokawa said. "When something like this happens, everybody portrays them as bad kids, but that's just a bad choice."
The places he's been and the people he met along the way have made Ozzy realize the importance of being well-rounded. Now, he is more than just a baseball player and more than just an athlete. He is not defined by the green dri-fit jersey he wears on the field, the bat he holds in his hands or the cleats he laces up before every game. And although he plays for Paly's varsity baseball team, shortstop is only his position, not his identity.
"I chose my ideal path I want to follow," Ozzy said. "I'm not stuck in sports. There's a say in what I can do. I learned my freedoms and learned to be grateful for what I have."
With any athlete who makes a mistake comes choices: the choice to put your head down and replay the error over and over, or the choice to keep your head up and focus on the next play. To Ozzy, his journey is not about dwelling on his mistakes. Instead, it is about picking up his bat, getting back in the box, and preparing for the next swing.