Boys' track and field beats Milpitas
Paly boys' track and field beat Milpitas high school today at the Milpitas track.
The Vikings started out with a point-booster, being the only the 4×100 meter relay to compete. The team of Matt Tolbert ('13), Morris Gates-Mouton ('12), Jayshawn Gates-Mouton ('13), and Tremaine Kirkman ('12) completed the relay with a time of 44.22 seconds.
The Trojans proceeded to take first place in the 1600 meter race, with Nikolai Solgaard ('12) following closely behind in second place. Solgaard raced a personal record with a time of 4:30.6 minutes.
"They have one good distance runner, he made it good competition," Solgaard said.
Paly took another second placing in the 110 meter hurdles race, with Larry Allen ('12) finishing in a time of 19.3 seconds.
The Vikings turned on the engines in the 400 meter race, ending with an eight point gain. EJ Floreal ('13) placed first with a time of 53.5 seconds, and Morris Gates-Mouton finished second with a time of 54.1 seconds.
As if eight straight points weren't enough, the Vikings swept the 100 meter dash, taking first, second, and third place. Kirkman placed with a time of 11.2 seconds, followed by Jayshawn Gates-Mouton who came in with a time of 11.3 seconds, with Tolbert finishing off in a time of 11.4 seconds.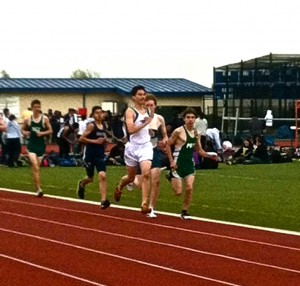 The distance team succeeded in adding another six points to the score, with Solgaard and Kevin Lavelle ('13) finishing first and third, with times of 2:02.8 minutes and 2:12 minutes, respectively.
For the last hurdle event of the day, Paly placed second place, falling just short.
Due to a shortage of Milpitas runners, the 4×400 meter relay did not race.
The field events further validated the victorious day, taking in a total of 26 points.  Tory Prati ('12) and Spencer Drazovich ('13) took first and second place in shot put.  The Vikings swept the discus and long jump, with Prati and Drazovich taking in a joint total of another six points.
Though the Vikings entered the meet with little doubt of their successful results, EJ Floreal ('13) was pleased with the performances.
"I think we did really well given the conditions," Floreal said.  "It was cold and windy, and they didn't even have a full team."
Paly will compete next on the home track against Lynbrook high school on Thurs. 12.
About the Writer
Nora Rosati, Editor-in-Chief
Nora is currently a senior at Paly, and is a captain of the varsity girl's cross-country.  She joined The Viking because of her love of sports.  Nora...