Column: Is flaggy the new swaggy? Uniforms in college sports
This summer, my dad gave me two Excel worksheets. At first glance, I was suspicious. Presumably this was another college application themed document, to go along with the insurmountable piles of "pertinent" information and the massive gigabytes of Word documents, saved websites and such chewing up my harddrive.
But I digress. This isn't about my college filled summer.
Those Excel sheets were Godsends. Simply fantastic. Saved my life that day.
In those Excel sheets, I found caricatures of 100 college football helmets (50 in each), the goal of each worksheet being the naming of all the college football helmets. So I instantly dove into it.
All throughout my childhood, my dad has given me minor brain teasers. Here's two, just for kicks.
Name the two states that have another state's name in it. Guess either of the Carolinas or Dakotas? Wrong. (Correct answers: West Virginia and Arkansas.)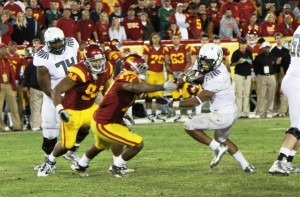 Name any college teams whose mascot does not end in 's.' I'll be lenient with you readers and allow pro teams too, just to make things easy. (At the collegiate level, you have multiple Wolfpacks [no one man wolfpacks here], including Nevada and North Carolina State. Other notable schools off the top of my head: Cornell Big Red, Notre Dame Fighting Irish, Dartmouth Big Green, Alabama Crimson Tide, Tulane Green Wave, Syracuse Orangemen, and Marshall Thundering Herd. And that school across the street with a tree as their logo. At the pro level, there's the Miami Heat, Orlando Magic, and Oklahoma City Thunder, and that's only the NBA.)
Again, I'm digressing. This is getting a bit much.
Right. Back to the football helmets. Like I said before I got all caught up in the mascots, the point of the game (if you will) is to name as many as possible. If you're interested, I got all 50 in the first sheet and 48 in the next. I know. I'm embarrassed. Forgive me.
If you're interested in playing, or seeing which colleges gave me some trouble, I've uploaded them all here (Quiz One, Quiz Two, My Answers Part One, My Answers Part Two).
But I wouldn't write a column on only this Excel sheet. Look! I've only written 360 words! That would be foolish.
No, what this got me thinking about was uniforms in general. Particularly those with extra swagginess.
Maryland just came out with some new football jersey combos that caught my eye. And the Terps have always been kinda swaggy anyways. Their mascot is a mean looking terrapin, which until I was six, thought was just a turtle with an anger problem. Nevertheless, if a school has that cool a mascot and can't find a way to make their uniforms awesome, someone in PR deserves to be shot.
I remember when Juan Dixon and Steve Blake led Maryland to an NCAA basketball championship way back when. The piping on their uniforms was in a diamondback pattern, something we at Paly used in our basketball state championship run led by Jeremy Lin ('06). Coincidence? I think not.
Also, their sponsor is Under Armour, which unless you've taken refuge underneath a boulder or somewhere similar, you would know is somewhat of an anomaly. Nike has a virtual monopoly on all things uniformed, so rivals like adidas and Under Armour have scrambled to re-swagify their unis. Under Armour, through Maryland, created new helmets and uniforms, attempting to rival Nike's Combat uniforms, used by TCU, Florida and Pitt among other powerhouses. And they came up with helmets that look like turtle shells. Now, one might say that's a bit much. Making the piping on the basketball uniforms a diamondback pattern is one thing, but a full-on turtle shell? Now the world is going to the dogs.
Well, you're wrong. They indeed are very swaggy. But..
Those arent even the uniforms that created the flurry of Facebook statuses and tweets. Those uniforms are a bit more extreme, literally infusing the Maryland flag into their helmets, jerseys, pants and even shoes. With one half, Maryland shows off the yellow and black portions of their flag, which (according to the ultimate school resource, Wikipedia) is part of the coat of arms of the Calvert family. The other thing (purportedly something called a cross bottony) is part of the Crossland family's coat of arms.
Another collegiate program, my favorite, is Oregon. The Ducks are the epitome of swag. They wore different uniforms every game last year. Just wrap your head around that. Every single game. They have over 80 different uniforms combination to choose from.
I really enjoyed their "Stormtrooper" look against USC last season. They combined white helmets, white jerseys and get this, not black, but white pants in an away game last year in which they rolled the Trojans, 53-32.
But they did.
In the National Championship game.
I mean, wow…those upper arm shivers, with the numbers on them? With bright green piping? What could be better?
I've always loved Oregon's uniforms. And it's easiest to go through their uniforms by naming the quarterbacks who wore them. Joey Harrington, Kellen Clemons, Dennis Dixon, Jeremiah Masoli, and now Darron Thomas have all worn simply fantastic uniforms. My favorites? The metallic look, something that just looked bizarre, but something I think still worked; the Big O with Daffy Duck in it (anytime you can take a normal Disney character, make it look formidable, and then incorporate it into your uniforms flawlessly, you deserve major props); and the shoulder pad wings. (In a moment of blatant self-promotion, see The Viking Volume IV Issue 4 for the technology behind those wing plates, written by yours truly.)
Check back next week for my thoughts on professional uniforms. I'm sure that if you've been even remotely interested through this column, you will be at that exact same interest level next week, if not more interested about it. So do it!