Palo Alto boys' water polo searches for new coach
Emma Beckstrom and Jonny Glazier, Staff Writers
December 16, 2011
Hang on for a minute...we're trying to find some more stories you might like.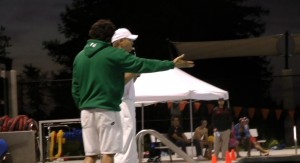 Palo Alto High School's athletic director Earl Hansen is currently accepting applications for coaching postions for both the varsity and junior varsity boys' water polo teams. It was announced Mon. Nov. 21 that neither head Coach Giovanni Napolitano nor the rest of the coaching staff will be returning for the upcoming 2012 season.
Hansen is searching for a coach with a positive attitude.
"Somebody very positive, very energetic, and very knowledgeable," Hansen said. "Whether they are young or wise, experienced or not, they've got to be very involved in the sport."
Hansen and principal Phil Winston are aware of the misinformation floating around their decision, such as the use of the terms "fired" and "dismissed."
"People are using the wrong language — that's part of the issue," Winston said. "No one was fired.  A coach's contract was not renewed; that's the bottom line. So if you're interested in clarifying, consistent language is a vital part. People change it around a little bit…Coaches are hired on a seasonal contract; they are never automatically renewed. They all have to essentially reapply the following season."
And although Napolitano and JV head coach Sasha Potulnytskyy have not been asked back for the fall season, volunteer assistant coaches Craig Rockhold and Scott Henderson are still welcome to apply for either the head coaching position or as assistant coaches under the new head coach.
"Head coaches typically bring their own coaching staff," Winston explained.  "So, if someone [a former assistant coach] wants to apply for the position next year, we'll consider them."'
One of the main controversies is the comments on The Voice article "Boys' water polo staff dismissed, sparking mixed reaction" which was caused by the lack of information shared by the administration regarding why Napolitano has been released.
"[Those complaining about Napolitano's release] think they have a right to know [why he was released] but they don't, because it's a personnel matter," Winston said.
Employees who are let go are entitled to their Health Insurance Portability and Accountability Act (HIPAA) rules. While the employees are free to speak about the details of their release, the employer is legally forbidden to disclose said information.
"Our response [to the details] is no response, because that's the legal position," Winston said. "I know it seems cold and not like how we usually do business, but it's one of those areas where personnel issues — where [Human Resources (HR)] laws, overrule everything –they absolutely trump them. As much as we want to share information and be thorough, we can't. We are being as transparent as legally allowed."
One parent, who asked for anonymity, responded to a comment on the The Voice's article implying that the water polo players were in danger under Napolitano.
"Those of us who are privy to that information (majority of the varsity team) are finally sleeping now that we know our children are safe," the parent said.
In an interview with The Viking, Napolitano responded, "My question to answer that is how come they didn't take their kids out when they knew it wasn't safe?" Napolitano said. "Even if it wasn't safe, how come the principal didn't call me before? That's negligence from the principal if he knew they were in danger."
Winston clarified that the players' safety was never at risk under Napolitano.
"Not physical safety," Winston said. "But remember, a coach has significant power over their athletes and what people say can have a lasting impact on their well being."
While some say he is aggressive, Napolitano defends his coaching style.
"When I say go cover and they don't go cover, it was because I was telling them to be a good teammate. I was telling them to not be late, and to show up to practice.  If that's aggressive, then yes, I am aggressive."
Also, because the reason for Napolitano's release is a personnel matter that cannot legally be shared by the administration, parents were never informed…Therefore, parents were never informed of the exact grounds for his non-renewal.
Napolitano himself is still unsure of why he was not asked back.
"[The administration] just said that I wasn't a good fit anymore for the program," Napolitano said. "And I asked well, after four years, I'm not a good fit for the program? That's pretty strange."
Opinions differ on whether the student-athletes should be the only ones to complain to administrators, or whether parents share the same right.
"The kids need to be responsible for their actions," Montse Armitano, mother of co-captain Daniel Armitano ('12) said. "[It is the job of] the kids, the athletes, [to confront the coach with any problems]."
However, Winston said that parents do have a helpful role in these types of situations.
"Sometimes our young athletes don't have the words and the skills to have those types of conversations," Winston said. "And that's why we have adults."
Members of the community have mixed feelings about the transition of the water polo leadership.  Some say that Napolitano's release was unfair and that the proper process was not followed, but the administration stands behind their process.
"There's a standard process in education that if there are complaints, the complainee goes to the person who has done something wrong or different," Winston said.  "In this particular case, there have been parents that have done that, but people were worried about repercussions and afraid of [approaching] individuals, so not everybody did that. Some folks came to us [the administration] and we gave the information to the coaching staff."
Napolitano claims that never happened. According to him, he only met with Hansen once prior to his non-renewal in a meeting which Napolitano initiated.
"I had something to tell Earl," Napolitano said. "I asked to talk to him. That was the first and last time. After that, [we] met Monday the 21st and [Hansen] told me that I was [not asked back]."
The Palo Alto High School Student Handbook states that the student who is feeling aggrieved should approach and "directly inform the person engaging in such conduct."
"That [reference to handbook] is in a perfect world and you all know that nothing is perfect," Winston said. "You all know that a young adult speaking to an authority figure is very challenging for everybody. That is the part that we have to keep in mind. Although it is written and we have to encourage that, it's not going happen that way every time."
Although the administration did not follow the rules word-for-word, they claim that player feedback was a key factor in their decision to release Napolitano.
"At the end of the season, athletes are given the opportunity to evaluate the program, and that goes into some of the decision making," assistant principal Kathleen Laurence said. "We make a decision based upon the best interests of the students at Palo Alto High School."
If there was said formal opportunity for player feedback, many players were not aware of it.
"We didn't do anything like that [feedback] at all," varsity player Quinn Rockwell ('13) said. "That never happened."
Co-captain Armitano also denies any involvement in the process of evaluating his coach of four years.
"There was nothing ever done," Armitano said, also claiming that he and the other captains were never approached by teammates nor by the administration about any serious issues with Napolitano. "I never had any heads up; no one ever asked me [my opinion]."
Armitano feels that the players should have been more involved in the situation, and that some parents overstepped boundaries.
"It's not the parents choice [to complain about a coach].  I think it is the kids choice.  I think [the administration] should have asked more people on the team — or people on the team in general– anyone," Armitano said.  "Parents got involved, and it just got out of hand."
Hansen explained the "regular" process for resolving team issues at Paly.
"If there is an issue, go to the coach. That's the first step. Always. Say what you gotta say and try to resolve the issue," Hansen said.  "If that doesn't work, go to the athletic director.  It's the same for the parents.  If they skip a step, we send them back.  And we did [in this situation]."
Despite high tensions and heated comments, the administration stands by their process and decision to release Napolitano.
"I am really confident with our decision and I would do it again," Winston said.
After a loss to Bellarmine in the Central Coast Section (CCS) semifinals concluded their 2011 season, the Vikings will take aim at the CCS title under the leadership of a new coaching staff in their upcoming 2012 fall season.
If you or someone you know is interested in a coaching position, contact athletic director Earl Hansen at ehansen@pausd.org.