Paly boys' basketball beats Mountain View 51-48
The Palo Alto High School boys' basketball team beat Mountain View 51-48, Fri.  night at Paly. The Vikings (5-1), broke Mountain View's perfect in-league record, now (9-1).
After falling to the Spartans 43-62 on Jan. 6, Paly was determined to comeback with a victory and that is exactly what they did.
E.J. Floreal ('13) was pleased by his teams efforts.
"[We played] just an all around better game," Floreal said.  "We hit our shots this time, we hit our free-throws, [and we played] better defense."
Floreal also felt that Paly's speed was a significant factor in their dominance on the court.
"[The Spartans] were just slower than us," Floreal continued.  "We could just run them all game."
This time around, Paly also didn't let their nerves get to them.
"We were more aggressive [tonight]," Israel Hakim ('12) said.  "We weren't afraid of [Mountain View] this time."
The beginning of the game was all back-and-forth, with not much scoring.  Paly started of strong but midway through the first quarter lost their momentum as Mountain View put themselves on the scoreboard.
The first quarter, ending 12-6, was somewhat sloppy for Palo Alto, with a handful of turnovers.  But the Vikings were able to pick up their intensity on both offense and defense in the second quarter, adding to their six point lead.
"We regrouped [after the first quarter] and stuck to our game-plan," Tory Prati ('12) said.  "On offense, we were able to execute our plays and finish around the basket."
Mountain View was playing catch-up during the second quarter but Paly managed to maintained its lead throughout the first half of the game.
As the home and away student sections bantered spirited cheers back and forth, Alec Wong ('12) set up an alley-oop for Floreal who then dunked the ball, bringing the score to 16-10.
The two teams then took turns turns earning points until Mathias Schmutz ('13) got the crowd going with his three-point buzzer-beater, securing Paly's 27-20 lead at the end of the half.
Palo Alto's tight pressure on defense in the third quarter caused Mountain View to miss some shots and to cause several turnovers.
But, with only 1:20 left in the third quarter, the Vikings lost their lead for the first time of the night.  Mountain View's Justin Lee ('12) tied up the score 33 all with a successful free-throw.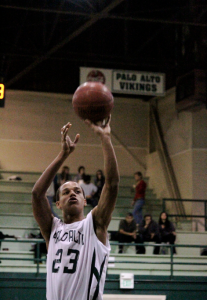 Hakim was quick to respond with a two-pointer followed by a free-throw, once again securing Paly's lead 36-33 at the end of the third.
The Spartans' Josh Kennedy ('12) didn't hesitate to match Paly's score 36-36.  Less than 42 seconds into the quarter, Kennedy sank a three-pointer.  Schmutz quickly responded with a lay-up for Paly, reclaiming their at lead 38-36, and the battle continued.
In the heat of the competition, Floreal set a pick for Wong, passed to Wong, who then assisted another clean three-pointer by Schmutz.
Paly's "D-D-D-Defense!" held strong, forcing the Spartans to panic out wide, as the student section cheered for the Vikes.Wong finished off the game with a three-pointer followed by a successful free-throw, leaving Paly on top 51-48.
The Vikings will play cross-town rival Gunn at Gunn Wed. Feb. 4 at 7:45 pm.
About the Writer
Emma Beckstrom, Staff Writer
Emma is a junior staff writer at Paly, currently in her first year on The Viking. She plays goalie for the girls' lacrosse team and has been on the team...