Boys' basketball stomps Gunn, 65-54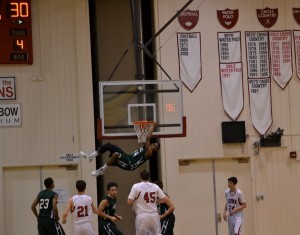 The Palo Alto High School boys' basketball team (6-1) wiped out Gunn High School (1-7) 65-54, Wednesday night at Gunn.  After a close  first half, the Vikings jumped ahead closing the game with a 17-point win.
Going into the game, forward E.J. Floreal ('13) understood the importance of playing a cross-town rival.
"It's a rivalry game," Floreal said. "There's a lot of hype around this because of what the Optimist said, [a Gunn blogger]… We just wanted to come out here and [beat] them."
Guard Mathias Schmutz ('13) started off the game by nailing a three pointer, but Gunn followed with a shot from inside by guard Scott Kresie ('12).  Floreal then came back with a dunk off a missed shot by guard Aldis Petriceks ('13).
The first quarter ended with Gunn up by one, 16-15.
The Gunn started off the second quarter by scoring a layup, but Schmutz countered the blow with a three pointer to tie the game.  Guard Alec Wong ('12) followed with several assists to Floreal and forward Aubrey Dawkins ('13), one of which, a monster dunk by Floreal over the Titans' center.
At the half, the Vikings' got up to a 32-29 lead.
Paly started off the second half strong with three by Schmutz, and used this momentum to build on their lead.  The Vikings went into the last quarter with a 47-35 lead over the Titans.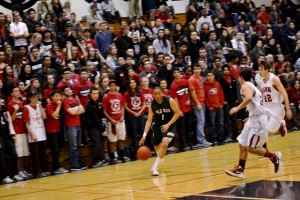 Floreal, who had a total of four dunks that night, thought his team played well, but believed there are still some aspects of the game they need to work on.
"The first half we definitely didn't [meet our expectations]," Floreal said. "We let them have hope.  We can't do that when we play them again."
In their next game the Vikings' will face Cupertino this Fri. at 7:45 p.m., at Paly.
About the Writer
Alan Lamarque, Editor-in-Chief
Alan is a senior at Paly who has been on The Viking staff since sophomore year.  In his free time, Alan enjoys playing basketball, soccer and eating bacon.