Baseball Shuts Out Los Gatos 4-0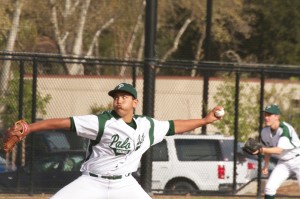 In possibly the most rapid-paced game at the Palo Alto High School baseball home field, the Vikings defeated the Los Gatos High School Wildcats 4-0 in league play. Strong pitching led by Pomona-bound Kevin Kannappan ('12) got the Vikings off to a fresh start on the defensive end, and solid fielding all around from both the infield and outfield prevented any Wildcat runs, even when batters came within scoring position.
As reflected in the Vikings' play, Kannappan notes that it was not a one man effort to end today's game with a victory.
"Today I just knew that I needed to go right at them [Los Gatos] and throw strikes," Kannappan said. "The defense has been playing really well…I only had one strikeout the whole [game], which I think says everything."
Offensively, the Vikings stayed consistent throughout the first half of the game, scoring runs in each of the first three innings. Catcher Christian Lonsky ('12) drove in both John Dickerson ('12) and Ozzy Braff ('12) in his respective at-bats. The final run was scored in the sixth inning once again by Braff.
Lonsky believes that Paly was able to emerge with a win by implementing the same gametime strategy as always.
"Play catch," Lonsky said. "Offensively, hit the ball more to the right side. If you hit the ball to the right side, you are sitting back longer [in your batting stance]."
Clearly this strategy paid off for the Vikings, and it will continue to take them through their next game this Friday, also versus the Wildcats. Pitcher Ben Sneider ('12) elaborates on how this seemingly simplistic yet effective offensive-defensive strategy will continue to improve his team. Sneider will be pitching in Friday's game.
"Kevin proved it today that they're going to come out and hack and they're going to be really aggressive at the plate, so as long as myself and the rest of the pitchers [attack] them with a lot of fastballs to make sure that they have to put a good swing on the ball to beat us, then we will be successful," Sneider said. "Kevin said it best, our defense is playing fantastic, single digit errors in three times as many games this year. You put trust in these guys and faith in the system and good things will happen."
About the Writer
Shannon Scheel, Staff Writer
Shannon is a senior at Paly and a Viking staff writer for the 2011-2012 school year. She was co captain of the varsity water polo team and participates...