Boys' cross-country places first at Gunn High School alumni meet
The Paly boys' cross-country team placed first out of four teams at the annual Gunn High School alumni meet this Thursday.
Ben Hawthorne ('13) placed first for Paly and third overall with a time of 11:49 minutes. Close behind him were Justin Zhang ('13) in fourth place overall with a time of 12:01 minutes and Benjamin May ('13) in fifth overall with a time of 12:13 minutes.  Simon Fox ('13) and Marco Vienna ('13) rounded out the scoring for Paly, taking 12th and 13th place, respectively.
In the boys' frosh-soph race, Nate Cook ('15) took home a first place finish  with a time of 11:48 minutes. This time made him Paly's fastest finisher, and would have earned him a third place finish in the varsity race. This standout performance earned him recognition from his teammates.
"We all knew that [Cook] had a lot in him, but I think everyone was slightly surprised by how well he did today," May said.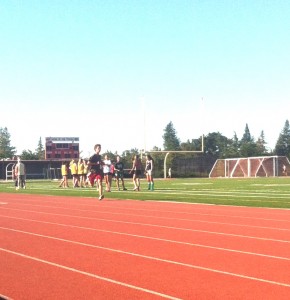 Coach Marcus Stone was pleased with the results from the meet.
"We did excellent today," Stone said. "I was very surprised by how well they did."
With a victory over rival Gunn High School under its belt, the team looks forward to improving over the rest of the season. May, a team captain, is confident in his team's future.
"I think we have a lot of room to grow over the season, so I'm looking forward to that" May said. "With workouts and general training, we'll get better over time."
The boys next hit the trails on Saturday, Sept. 15 at the Lowell Invitational at Golden Gate Park in San Francisco.
Leave a Comment
About the Contributor
Audrey DeBruine, Features Editor
Audrey is a senior at Paly. She is a co-captain of the varsity girls' cross-country team and also runs track. In her free time, Audrey's hobbies include...