Volleyball opens season with straight-set victory over Notre Dame
Michael Strong and Nina Kelty, Business Manager and Design Editor
September 4, 2012
The Paly volleyball team opened its season and title defense Tuesday night at the Paly main gym, defeating Notre Dame (Belmont), 25-20, 25-21, 25-20.
The team began the game with only six returning players from the 2011 state championship season, including captain Shelby Knowles ('13). Nonetheless, coach Dave Winn is excited about his new group of girls.
"We're in a bit of a transition because we had a lot of strong-willed players graduate," Winn said. "This year people are having to step up and do the different roles. It's going to take a couple weeks to get comfortable with that."
The Vikings entered the contest ranked fifth in the national high school volleyball rankings according to MaxPreps.  However, despite their past accolades, Winn is focused on only two goals for his team this season.
"We have two expectations," Winn said. "One, we get better every single day. Everyone has to get better at something every single day. We do that, wins and losses take care of themselves. Two, we have to have way more fun than everyone else. We play better when we're loose and we're having a good time. Tonight when we started high-fiving and coming together, we started playing great."
Paly began its season with a Becca Raffel ('14) kill that gave the girls a 1-0 lead. Then, Bella Graves ('14) made her presence known with a kill and a block that put the Vikings ahead by a score of 4-2.
Knowles, co-captain and returning starter, got her first kill of the game to give the Lady Vikes a 6-5 lead. An ace from Molly Fogarty ('15), followed by a pair of kills from Raffel  and Knowles, put the Vikings up 11-8. After two unforced errors from the Vikings, Winn called his first timeout of the match with his team leading by only one point.
The Notre Dame squad then proceeded to make a charge with five straight points thanks to two kills from number 13, a kill from number 2, and a pair of blocks from number 7. This run put Notre Dame up by a score of 15-13, forcing Winn to call yet another timeout.
Coach Winn's message was received, as Raffel and Knowles bounced back with kills of their own to tie up the match once again at 15 apiece.
"I thought our team did a great job listening to our coach's feedback and [executing] the strategy," Knowles said. "We got them out of system more and then swung hard after we tipped the first ball."
The next four points flip-flopped between the two teams, who remained tied at 17. Rudra Aiyar ('15) came into the game to serve for the Vikings and managed to hit an ace before missing into the net to tie the first game once again at 19. With a kill from Knowles, a block from Lauren Kerr ('14), and an unforced error from number 16 on Notre Dame, the Vikings took a crucial 22-19 lead in the game.
To close out the first game, the Lady Vikes continued their strong play with a kill from Kerr that ended the first game at a score of 25-20.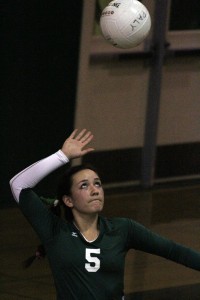 The Vikings got off to a rocky start in the second game. Notre Dame won the first four points thanks to a block and two kills from number 13. Strong play from captains Sophia Bono ('13) and Knowles brought Paly back within one point at 4-3. Thanks to another ace from Bono and a kill from Raffel, the Lady Vikes evened up the score at 6-6.
Jade Schoenberger ('15) got the first kill of her young career to give Paly its first lead of the second game. Notre Dame refused to give up though, and with three quick points, managed to give itself a two point lead once again.
Seeming to be a match of runs, the Vikings gathered heat next, winning three straight points of their own and giving themselves a one point lead at 11-10. Notre Dame came back to continue the trend by winning four more points, forcing Winn to call his third time-out of the match with his girls down by a score of 14-11.
The two teams went on to trade a series of points, leaving the Vikings down two at 16-14. With some steady play from Keri Gee ('14), including a defensive pancake, a kill and an ace, the Vikings jumped ahead by a score of 17-16.
The teams traded points for the next minute, making the score 19-18. Another kill from Raffel put the Vikings up 20-19 before an unforced error from Paly evened the score at 20-20.
A crucial block from Kerr gave the Vikings a 22-21 lead before a timeout from the  Tigers. A kill from Aiyar capped a three point run that gave Paly a commanding 24-21 lead. An impressive back corner kill from Schoenberger ended the game.
The Vikings began the third game by losing the first two points on kills by number 13 on Notre Dame. The Vikings countered with kills from Bono and Graves to tie the score up at 4-4. Despite a powerful kill by Raffel, Paly's momentum was forgotten after two unforced errors by the Vikings, leaving the score at 9-6 in favor of Notre Dame.
The Notre Dame attack proved to be effective after two more impressive kills by number 7 and number 16, giving the Tigers an 11-7 lead.
After another Winn time-out, his girls responded with four quick points thanks to a kill from Kerr and three unforced errors from Notre Dame, which tied the score at 11-11.
Notre Dame limited its unforced errors, winning the next four points to regain its four point lead at 16-12 in large part due to two kills from number 13.  A pair of kills from Raffel and Knowles cut the Notre Dame lead to just two. Notre Dame proceeded to have two quick unforced errors that brought the Vikings within just one at 19-18.
Following a Notre Dame time out, Paly kept its foot on the gas with a pair of kills from Knowles that tied the third game up at 20 apiece. Teammates Kerr  and Raffel fed off of Knowles's energy to hit kills of their own, giving the Vikings a 22-20 lead in the third game.
Knowles wouldn't be denied a victory, smashing her ninth kill of the game and giving her team a 23-20 lead. A hold from number 7 and an unforced error from number 6 on Notre Dame ended the match with a third period score of 25-20.
Knowles was very happy with her team's first performance of the 2012-2013 season.
"I thought we did really well," Knowles said. "One of the things we had to do was adjust our strategy from the beginning of the match into the second game."
Knowles, although optimistic about the teams potential for the upcoming, is also very careful not to get too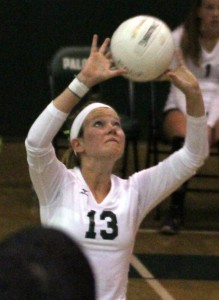 far ahead of herself.
"Obviously we don't have the goal to win the state championship again, I think that would be a bit of a stretch," Knowles ('13) said. "But, we definitely have the goal of winning league again. I think we have a goal of keeping the same team chemistry that's been so unique to Paly. The past three years we've had a very good team chemistry and not giving up in matches and fighting to the end."
Knowles has been on varsity for all four years at Paly and this season will be her first as a captain. Of course, with this role comes greater expectations.
"I've honestly have never been nervous before a volleyball game but I actually was before this one," Knowles ('13) said. "I've always had someone I can look up to and count on but now that person is me. I really have to work hard to step into that role of being the leader because I've never had to do it before on this team."