Note: For commentary on the growing scandal over The Optimist's blog, as the title would suggest, please look at the last three paragraphs of this column.
As I watched Oregon handily win the "Granddaddy of them all," (the Rose Bowl) over Wisconsin, (both in levels of swag and on the scoreboard. Wisconsin's inlaid rose on their Wisconsin "W" on the helmets couldn't even carry the gym bag for Oregon's chrome winged helmets), I didn't move an inch.
I instead fast forwarded my TiVo to the Stanford game (as I waited to start watching the Rose Bowl with the idea that I'd be sitting in front of my TV for a good, solid chunk of the day), and I was struck by the difference in commentating between the two games.
Oregon's game was commentated by ESPN's classic College Game Day duo, Brent Musberger and Kirk Herbstreit, while Stanford's game was commentated by Matt Millen (yes, the same Matt Millen that drove the Detroit Lions into the ground and was fired from his GM position) and Sean McDonough.
Surprisingly, Stanford's loss to Oklahoma State in the Fiesta Bowl was better commentated, in my opinion. Musburger is simply terrible.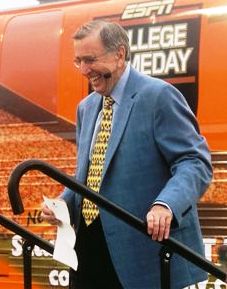 I'm guessing he just writes down a list of phrases he wants to use in his play-by-play at some point over the course of the game, and then throws them in shamelessly, having no regard for whether or not 1) the audience cares at all about what he's about to say or 2) the phrase actually jives with the current game play.
I, for one, was astounded that he didn't throw in his usual "LaMichael James, Oregon's star running back from TEXarkana" (if you couldn't tell, that was a major emphasis on the first syllable). Why?? What's the point of that? What benefit does that give the audience? None. None whatsoever.
How about someone "incurring the wrath of the official?" Does that even happen? "The wrath." Who do you think you are? I don't need to be pontificated.
You don't need to refer to your listeners as "folks." Just stop. You don't need to keep saying "the Granddaddy of them all" every time you mean to say the Rose Bowl. The Rose Bowl is enough, thank you very much.
The point here is that even someone who obviously doesn't have a great grasp of football protocol (read: Millen's stint with the Lions) can have a better announcing career than someone who graduated from Northwestern's prestigious Medill School of Journalism. Hey, even the Wildcats make mistakes. I guess for every Michael Wilbon (who is a lovely human) they graduate, you've got a Musburger. How he even got nominated for the Montana Broadcaster's Hall of Fame, I have no idea, but Montana isn't exactly China, so it's not like they've got a bunch of people to choose from either.
It's astounding that ESPN, the preeminent sports channel in the world (sorry Comcast Sportsnet and Eurosport, you never stood a chance) can have such a large discrepancy between their announcers at all, much less between two of the biggest college football games of the year.
Why someone like Jesse Palmer (Wikipedia says he was on The Bachelor. Really? Really?? Come on son.) even gets airtime on ESPN much less the title of "studio analyst" makes me want to force my head through the spine of my Calculus textbook. And its dead week so I'm pretty much fed up of schoolwork.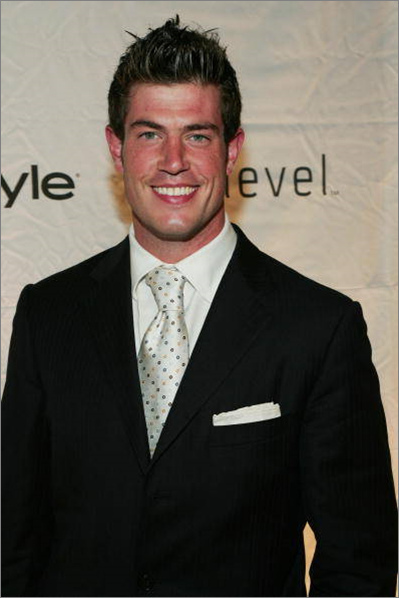 Palmer was a backup to Rex Grossman at Florida. Rex Grossman. Yes, he got drafted, and yes he was the second Canadian to start an NFL game. I'm happy for Canada. Everyone is; everyone likes Canada. But consider this: even after he was temporarily signed by the 49ers way back in their heyday, the other quarterbacks they were still considering using included Ken Dorsey. (Ken Dorsey. The man, over his entire six year career, threw eight touchdowns with his 18 interceptions, and had a 55.2 passer rating. Shoot me now) Get Palmer off the air. Now.
Not only is the live, game time analysis horrific, but so is general post game analysis. Hey, Oregon won? Wow. Here, let's throw up a bunch of stats on the screen about what they did. The highlights aren't bad, but when the personalities start making predictions for next season, you've gotta change the channel. How in the world are you supposed to predict the next season when this one has barely ended?!
I looked at the Sports Illustrated "Top 25 for 2011" in their January 17, 2011 "War Eagle" issue (the one right after Auburn, unfortunately, beat the Ducks in the National Championship).
Out of the top 25 teams they selected, they missed eight, completely botching the top team (Oklahoma), and the other two Pac-12 teams aside from Oregon and Stanford. Arizona State at 23? Utah at 25? The two finished third and fourth in the Pac-12 South. Even UCLA beat them. UCLA. The team that got into a bowl with a losing record? Yeah, that UCLA. "It's not too early to rate the teams that are in the best position to challenge for next season's BCS championship." COME ON. Give me a break. Get outta here.
But even here in good 'ole Palo Alto, we've got controversy. A blogger who goes by the name of "The Optimist" recently wrote a severely opinionated recap of the recent Paly boys' basketball blowout of Gunn. I personally have no problem with the guy (or girl, even though I know it's a guy. I'll stay gender neutral though, because I'm assuming that's the point why the writer uses a nickname instead of his [her] name, to be mysterious. Ooooooh.).
Yeah, he (she) took a couple of cheapshots at Paly, most notably the idea that our academics aren't as rigorous as theirs, which seemed to be his (her) go-to argument for his entire post. But that's what a blogger does. He (she) writes his (her) opinion, many times exacerbating their points to drive hits to their sites. Yes, people sometimes stray too far, and get caught up in the heat of the moment, I've sure done my fair share in this column (did you even read what I said about Musberger?) and in my past ones. But the point of a rivalry is to break out these (great) emotions. If we try to take this down, like parents in Palo Alto many times do, sports might lose their fun.
Sports are meant to be fun, and there will always be times when emotions get high. But as long as these are kept in check and the extremists kept to a minimum, it won't really matter. All that will matter is that we have someone good commentating the game.